Apple Toes the Government Line With Engraving Policy in China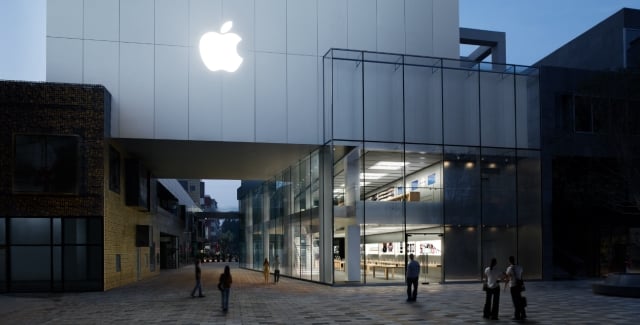 Apple (NASDAQ:AAPL) has long offered its customers the option to engrave personalized messages on their iPhones, iPods, and iPads through the Apple Store's online engraving service. Although Apple has a longstanding policy of not engraving obscenities, American customers are otherwise free to put whatever words or phrases they want on their iDevices. However, the Chinese Apple Store's engraving policy extends far beyond banning obscenities.
According to the Los Angeles Times, the Chinese Apple Store bans a wide range of words, names, and phrases that are considered politically sensitive by the country's government. If any of these words are entered into Apple's online engraving service, the user is greeted with a message that reads, "The engraved text is not suitable."
Banned words include, "protest," "freedom," and "human rights," reports the Los Angeles Times. Phrases such as "Tibet independence," "Xinjiang independence," "Taiwan independence," and "1989 Tiananmen protest" are also not permitted. Names of political opponents to China's communist government are also banned. "Li Hongzhi," the name of the banned Falun Gong religious movement's leader, is blocked from Apple's engraving service in China. Not surprisingly, the popular Falun Gong slogan, "God will crush the Chinese Communist Party," is also banned. The name of Tibet's spiritual leader — the Dalai Lama — is forbidden, as is the name of jailed human rights activist and Nobel Peace Prize winner Liu Xiaobo.
Although Apple declined to discuss its Chinese engraving policy in detail, company spokesperson Carolyn Wu told the Los Angeles Times that, "We comply with local laws and requirements around the world." Apple has implemented a similar policy when it comes to the apps available in the Chinese App Store.
Last December, Apple was criticized by human rights activists after it removed the FreeWeibo app from China's App Store at the government's request. The banned app allowed users to view government-censored content on Sina Weibo, a popular microblogging website that is often referred to as "China's Twitter (NYSE:TWTR)." The California-based company also pulled OpenDoor, a free app that allowed Chinese users to circumvent the country's censorship filters.
China has become an increasingly valuable market for Apple, especially now that the iPhone maker has finalized a distribution deal with China Mobile (NYSE:CHL) — the world's largest carrier with over 763 million subscribers. However, tech companies doing business in China must comply with the government's censorship requests or risk losing access to the market. As noted by the Los Angeles Times, Google (NASDAQ:GOOG) relocated its servers to Hong Kong after a dispute over similar censorship demands from the Chinese government.
Although it may be difficult for Chinese Apple users to acquire the banned apps, there is a relatively easy method to get around the forbidden language engraving policy. As noted by the Los Angeles Times, none of the banned words or phrases are blocked if they are entered in English.
Follow Nathanael on Twitter (@ArnoldEtan_WSCS)
More from Wall St. Cheat Sheet: