Apple Users Are Adopting iOS 7 Faster Than Previous Updates
According to new research from Chitika, Apple (NASDAQ:AAPL) customers have been adopting iOS 7 for their iPhones and iPads at a faster rate than they did iOS 6, and the firm believes iOS 7 adoption will continue to top the rates seen by iOS 6 in the coming months.
In North America, iOS 7 usage has reached 74.1 percent of iOS-based web traffic since the update was released on September 18. That adoption rate has lead Chitika to conclude that iOS 7 will continue to grow faster than iOS 6, which reached the 83 percent mark after six months following its release in September 2012.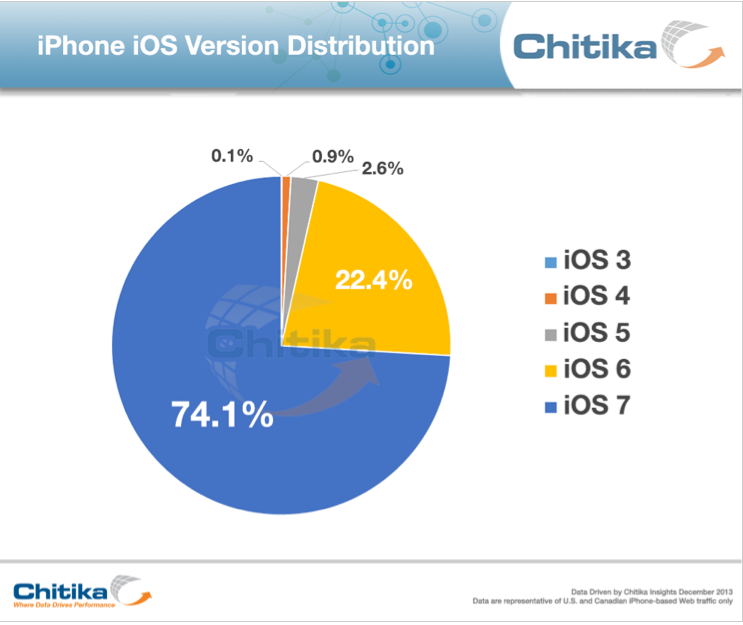 Chitika also found that, similarly to its last report, iPhone users have been more likely to upgrade to iOS 7 than iPad users. The firm said that the fact that AirDrop didn't become available for the iPad 2 or 3 was a reason that some iPad users elected not to make the update. As of November 18, 2013, 74.1 percent of iPhone users and 63.8 percent of iPad users had updated to iOS 7. Those still using iOS 6 accounted for 22.4 percent of iPhone users and 24.6 percent of iPad users.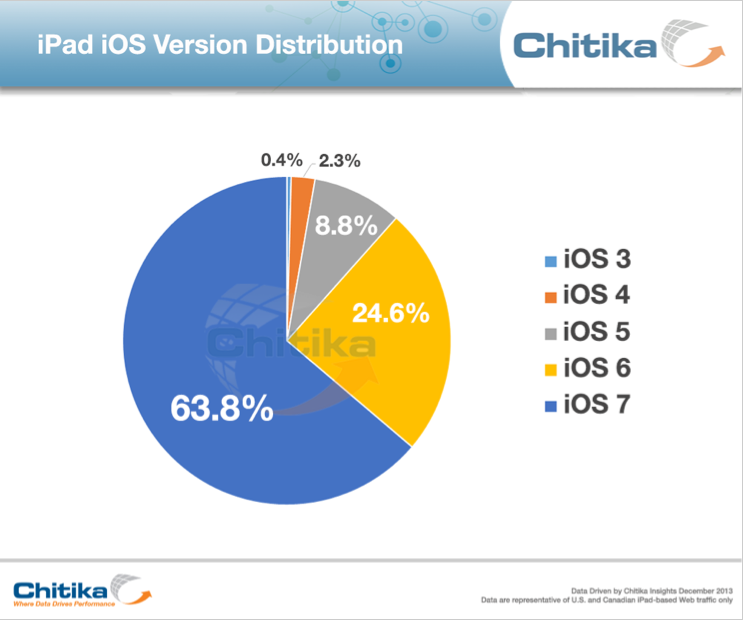 High adoption rates for iOS updates are a key part of Apple's ability to draw app developers to the company's platform. "The latest analysis again underscores that iPhone users, and iPad users to a lesser extent, update at extremely high rates, acting as a distinctive selling point when it comes to attracting application and mobile Web developers to the platform," the firm said.
Recent research has also found that while iOS is not the dominate smartphone operating system, it does tend to drive the most mobile e-commerce. Data analyzing mobile sales on Black Friday found that 82 percent of the purchases made via mobile on the biggest shopping day of the year came from iOS devices. Users of iOS are also found to spend more than shoppers using other platforms.
Even though iOS devices were shown to only account for 12.1 percent of the global smartphone market in the third quarter according to research from Gartner, user engagement with iOS is strong and will continue to make the platform appealing for developers.
Follow Jacqueline on Twitter @Jacqui_WSCS
Don't Miss: Having Problems With the iPhone 5S Touch ID?