Apple Users Are Flocking to iOS 7
Apple (NASDAQ:AAPL) users are known for quickly upgrading to the latest version of Apple's mobile operating system and the release of iOS 7 appears to be no exception to this trend. Thanks to mobile analytics platform Mixpanel, Apple fans can watch the adoption rates for iOS 7 in real time.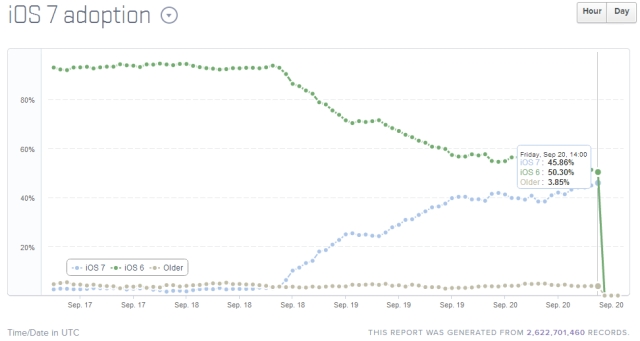 As of this writing, over 45 percent of Apple's mobile device users have upgraded to iOS 7. A little over half, or 50.30 percent are using iOS 6, while less than 4 percent are still using operating systems that predate iOS 6.
This is a fairly explosive growth rate when considering that iOS 7 was installed on less than 3 percent of Apple's devices before the operating system was publicly released on Wednesday, September 18. Apple users' rate of adoption for iOS 7 is also in stark contrast to Android users' rate of adoption for operating system upgrades.
According to Bloomberg Businessweek, 45 percent of Android users have upgraded to "Jelly Bean," the latest version of Google's (NASDAQ:GOOG) mobile operating system. However, 22 percent use a version that was released in 2011, while 31 percent use a 2010 version of Android. Tim Cook noted via Bloomberg Businessweek, "That would be like me right now having in my pocket iOS 3. I can't imagine it." According to MixPanel's data, over 93 percent of Apple's mobile devices were running the latest version of iOS the day before iOS 7 was released.
The unusually rapid iOS 7 adoption rate may have even delayed the update for some users. As reported by Apple Insider, many users that tried to download the latest iteration of Apple's mobile operating system on Wednesday found that the update service was unavailable. Although Apple didn't identify the cause of the problem, it is possible that its servers were overwhelmed by the initial demand for the iOS 7 update.
Although some users were initially put-off by Apple's radical iOS redesign when it was first unveiled at this year's Worldwide Developers Conference, the rapid adoption rate seems to indicate that many iPhone owners are ready to embrace the new iOS 7. Here's how Apple has traded over the past five trading sessions.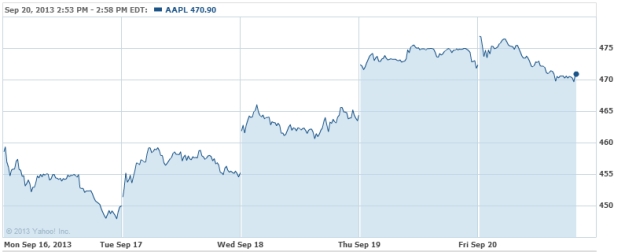 Follow Nathanael on Twitter (@ArnoldEtan_WSCS)
Don't Miss: NY Attorney General to iPhone Owners: Download iOS 7.