Apple v. Samsung Jurors Praise Expert Witness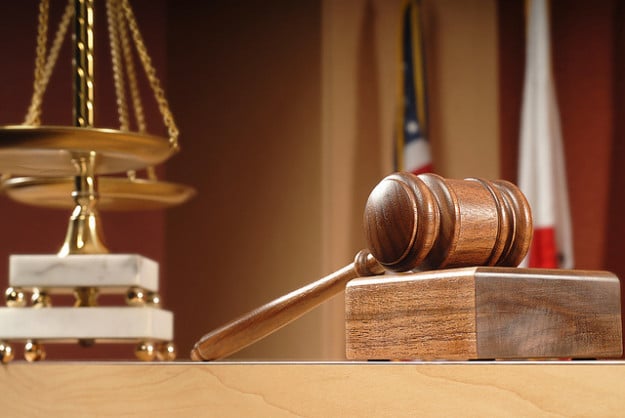 Several jurors from the recently concluded Apple v. Samsung trial have credited one of the iPhone maker's expert witnesses for helping them reach a decision that was more favorable to Apple (NASDAQ:AAPL), reports Bloomberg. The jury ruled that Samsung (SSNLF.PK) must pay Apple more than $290 million in damages over 13 products that were found to be infringing on five of the Cupertino-based company's patents.
Although this is less than the approximately $380 million that Apple was seeking, it is significantly more than the $52 million that Samsung was offering to pay. Several jurors told Bloomberg that Apple's damages expert, Julie Davis, helped tip the damages sum closer to Apple's desired amount.
Davis is a certified public accountant based in Chicago, reports Bloomberg. According to the trial blog of San Jose Mercury News reporter Howard Mintz, Davis broke down Apple's damages calculation by lost profits and royalties for each infringing Samsung product. She also testified that Apple would have sold 360,000 more iPhones and iPads if Samsung hadn't infringed on the company's patents. "For most of us it was Julie Davis," juror Barry Goldman-Hall told Bloomberg. He noted that, "she offered us a lot of information" that helped the jurors to determine the final damages amount.
Jury foreperson Colleen Allen also credited Davis's expert testimony. "Ms. Davis was on it," said Allen. Allen also noted that the "superstar witness" held up well under cross-examination from Samsung's lawyers. The recently concluded partial damages trial was a continuation of last year's Apple v. Samsung case. In that trial, a jury found that 26 Samsung products infringed on Apple's patents and awarded the iPhone maker about $1.05 billion in damages.
However, Judge Lucy Koh later reduced this amount by $400 million after discovering that the jury based part of its award amount on an impermissible legal theory. Samsung is still liable for the portion of the original damages award that was never vacated in addition to the recently awarded amount, making Apple's total damages award approximately $930 million.
"For Apple, this case has always been about more than patents and money," stated Apple spokesperson Kristin Huguet via Bloomberg. "It has been about innovation and the hard work that goes into inventing products that people love. While it's impossible to put a price tag on those values, we are grateful to the jury for showing Samsung that copying has a cost."
Here's how Apple has traded over the past five sessions.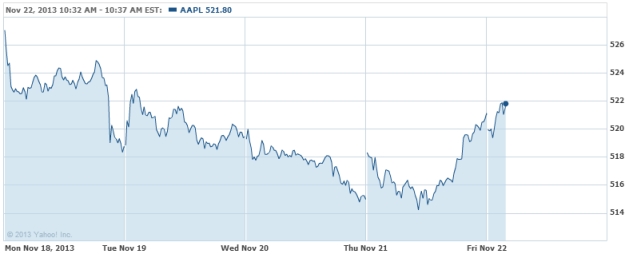 Follow Nathanael on Twitter (@ArnoldEtan_WSCS)
Don't Miss: Patent Retrial Verdict Cuts Samsung to the Core With $290 Million to Apple.