Apple VP for Product Design Recruited By Tesla and 2 More Heavily Traded Stocks to Follow
Apple Inc. (NASDAQ:AAPL): Current price $531.81
According to a Bloomberg report, Apple Vice President, Product Design, Doug Field is moving to Elon Musk's Tesla Motors. Field is the former Chief Technical Officer of Segway. He will be charged with driving development of new vehicles, said CNBC. Field has had a longtime interest in creating alternative vehicles, and Apple Insider quotes him as commenting, "Until Tesla came along, I had never seriously considered leaving Apple. I started my career with the goal of creating incredible cars, but ultimately left the auto industry in search of fast-paced, exciting engineering challenges elsewhere. As the first high tech auto company in modern history, Tesla is at last an opportunity for me and many others to pursue the dream of building the best cars in the world — while being part of one of the most innovative companies in Silicon Valley."

Corning Inc. (NYSE:GLW): Current price $17.48
Fitch Ratings says that Corning Inc.'s consolidation of Samsung Corning Precision, its joint venture with Samsung Corporation, reinforces Corning's credit profile. However, Fitch continues to believe that any positive rating action is not likely without greater end market diversification, and that the transaction should give some lift to operating profit margins, the potential for lower capital spending over the intermediate-term, and the full benefit of SCP's cash and FCF, all without diminishing Corning's ongoing collaboration with a world tech leader in Samsung.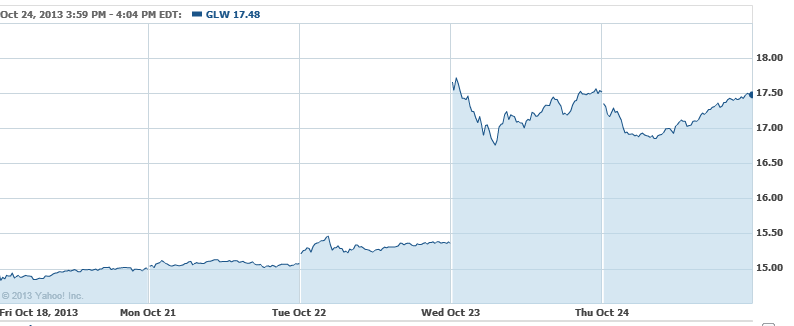 J.C. Penney & Co. (NYSE:JCP): Current price $6.69
On Thursday, Fitch opined that any store closures that Penney's might attempt in an endeavor to stem continuing losses will make it hard for some mall owners to replace the retailer. Beyond that, the ratings agency notes that potential closures would impact commercial mortgage-backed securities "because [the CMBS] represent relatively small amounts of those transactions." Customer traffic at shopping malls has also been sliding, and a new note from Fitch Ratings says that the impact of the financial challenges facing J.C. Penney could last beyond holiday season traffic and sales. Shares are down around 5 percent Thursday afternoon at $6.68.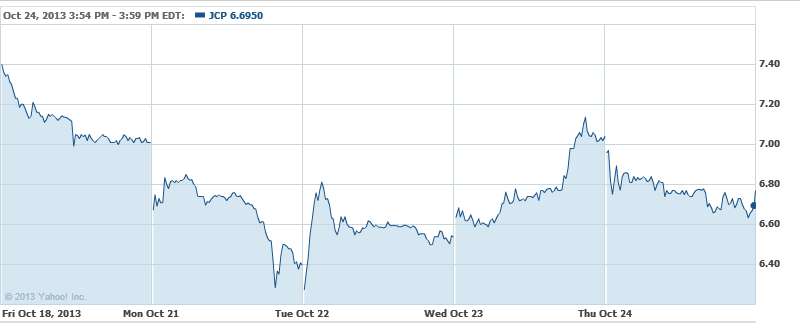 Don't Miss: Here's How Apple's Mac Pros Are Made.