Apple vs. LinkedIn: Which Is the Superior Long-Term Investment?
Would investors be better off today if they had bought LinkedIn (NYSE:LNKD) shares instead of Apple (NASDAQ:AAPL) two years ago? John Shinal at MarketWatch believes that the majority of investors would have benefited from investing some of their initial Apple profits into LinkedIn stock.
However, he also notes that "timing isn't just one important factor in investing success — it's the only thing that matters." In this sense, some savvy investors could have made a lot more money on Apple stocks if they bought and sold their shares at the right time.
In the case of Apple, a prescient investor could have sold his or her Apple stock when it was peaking around $700 in September of last year and made a fortune. However, LinkedIn stock has surged almost 106 percent since May 2011. In contrast, Apple has grown by just under 30 percent.
Back in May of 2011, Shinal urged traders to sell some Apple stock and reinvest that money into LinkedIn. The author notes that LinkedIn was riding a growing wave of social media trends that included giants like Facebook (NASDAQ:FB). However, whereas Facebook was centered on socializing between friends, LinkedIn was based on professional relationships between job seekers and businesses. Sinal notes that this gave LinkedIn's user base more value to advertisers than Facebook's user base.
Meanwhile, Apple was still riding a wave of profitability from its iPad and iPhone products. However, what goes up must eventually come down. Not surprisingly, Apple was unable to maintain its explosive growth rates, and reported flat profit growth in January.
Despite his belief that LinkedIn would have made a better investment stock than Apple based on the ups and downs of the last two years, the author still thinks Apple "should be a core holding for every income investor, thanks to its healthy dividend, and every value investor, thanks to its low price-to-earnings ratio." In fact, Shinal now believes that traders should sell off some of their LinkedIn stock because CEO Jeff Weiner has announced his plans to invest in growth at the expense of profitability.
Here's how Apple and LinkedIn have traded over the past two years.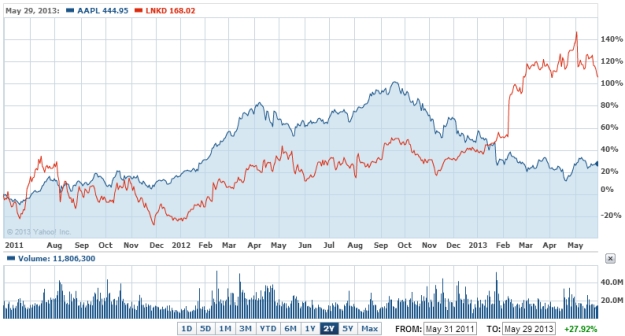 Follow Nathanael on Twitter (@ArnoldEtan_WSCS)
Don't Miss: Greenpeace Loves Apple's New Green Hire.