Apple Will Pay for Your Old iPhone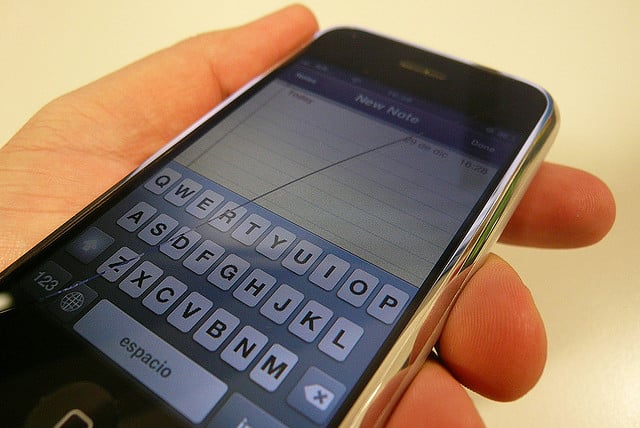 Is Apple (NASDAQ:AAPL) initiating an iPhone trade-in program to help jumpstart its recently declining iPhone 5 sales? According to an anonymous industry source, Apple will soon initiate a used iPhone buyback program exclusively at its Apple Stores, reports Bloomberg. Apple has reportedly partnered with mobile phone distributor Brightstar to help run the program.
Is Apple now a once-in-a-decade buying opportunity? Click here to get your 24-page Ultimate Cheat Sheet to Apple's Stock now!
Although the source did not specify how much Apple will pay for used iPhone 4 and iPhone 4S models, AT&T (NYSE:T) currently offers as much as $200. Apple will probably offer similar terms since AT&T's trade-in program is also managed by Brightstar. This may allow some customers to purchase the latest iPhone without a down payment.
Although Apple does not usually directly deal in refurbished phones, it may be trying to boost the sales of its flagship device after a recent report from Canaccord Genuity revealed that the iPhone 5 was outsold by Samsung's (SSNLF.PK) Galaxy S4 last month. In order to keep the older used iPhone models from cannibalizing sales of the iPhone 5, the used devices are typically resold in emerging markets where there is a high demand for older-generation iPhones.
Due to the maturation of the U.S. smartphone market and a continuing overseas demand for used mobile devices, the refurbished smartphone market has expanded over the last several years. Bela Lainck of Brightstar notes that the company collects 80 percent of its used mobile devices in the U.S. and resells them in 50 countries around the world.
Although Apple currently buys its old mobile devices back through a mail-in program, this new initiative will allow consumers to instantly receive credit without having to mail in their old iPhone or iPad. It may also give the iPhone 5 sales a bump before Apple's expected release of the next iPhone later this year.
NEW! Discover a new stock idea each week for less than the cost of 1 trade. CLICK HERE for your Weekly Stock Cheat Sheets NOW!
Here's how Apple has been trading so far this week.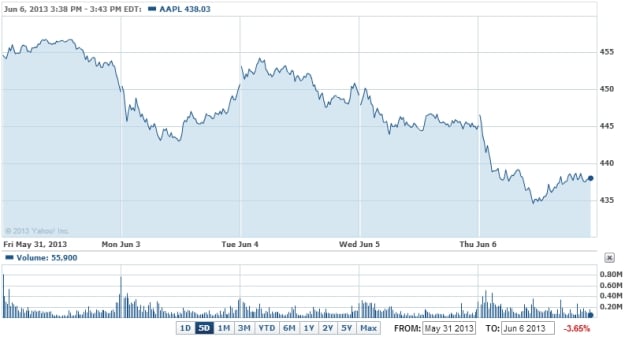 Follow Nathanael on Twitter (@ArnoldEtan_WSCS)
Don't Miss: Help for Yelp: Apple Maps Improvement.