Apple Wishes Mac a Happy 30th Birthday
Apple (NASDAQ:AAPL) is celebrating 30 years of Mac computers with a special "Happy Birthday, Mac" splash page on its official website. Apple started its popular line of personal computers when it introduced the first Macintosh in 1984. The original Macintosh featured a user-friendly graphical interface, keyboard, and mouse. The debut of Apple's first Mac was made famous by the company's iconic "1984" television commercial that aired during Super Bowl XVIII.
As stated by Apple on the splash page, "It was designed to be so easy to use that people could actually use it. And it came with a promise — that the power of technology taken from a few and put in the hands of everyone, could change the world. That promise has been kept. Today, we create, connect, share, and learn in ways that were unimaginable 30 years ago. Imagine what we can accomplish in the next 30 years."
An accompanying link to a "30 Years" website encourages users to browse an interactive Mac timeline that traces the history of the Mac from the original Macintosh, through the MacBook Pro, to the current Mac Pro professional desktop computer. On the timeline, each generation of the Mac is accompanied by a personal story of how that particular iteration of Mac helped various artists, teachers, designers, architects, and scientists to excel in their respective fields. Some of the profiled Mac users are quite well-known, including musician Moby and composer Hans Zimmer. Apple also produced a video that profiles some of the pioneering innovators that use Apple's Mac computers. The video can be seen below.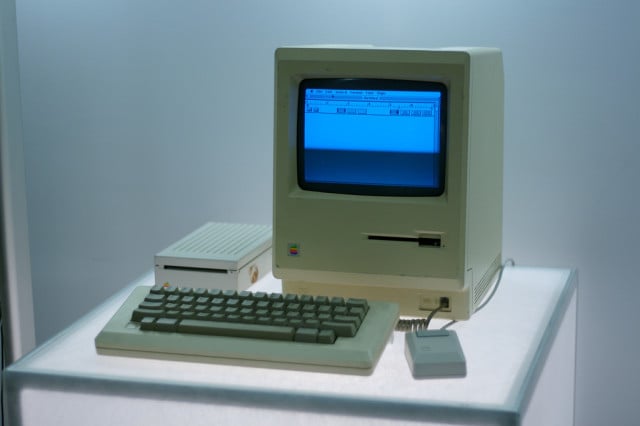 Apple has also invited Apple users to share their stories about their first Mac. An accompanying graphic shows which Mac models were respondents' most popular choices for their first Mac. At the time of this writing, the Macintosh 512ke from 1986 is currently the most popular "first Mac."
Another graphic lets users see how the Mac was used by people throughout its history. According to Apple's survey, the original Macintosh was primarily used for "Education/Teaching" in 1984. In 2013, Mac usage fell mostly into the "Internet & Email" category.
Macworld recently spoke with Apple executives Phil Schiller, Craig Federighi, and Bud Tribble about the 30-year anniversary of the Mac. "Every company that made computers when we started the Mac, they're all gone," Schiller told Macworld. "We're the only one left. We're still doing it, and growing faster than the rest of the PC industry because of that willingness to reinvent ourselves over and over."
Follow Nathanael on Twitter (@ArnoldEtan_WSCS)
More From Wall St. Cheat Sheet: