Apple Worries Over Its Pace of Innovation and 2 More Heavily Traded Stocks to Follow
Apple Inc. (NASDAQ:AAPL): Current price $454.05
Charlie Gasparino of Fox Business Network reports that Apple's board has become more and more worried in regards to the firm's "pace of innovation," as he cites unidentified sources. Beyond that, Gasparino said that there is pressure on Chief Executive Tim Cook "to innovate, do something fast." On a Fox Business broadcast on Friday, the commentator said that Apple had the iPad and a few other things, "But they don't have anything innovating from what came from Steve Jobs."
Gasparino continued that while the situation has become "an interesting boardroom drama, it does not mean Tim Cook is out of a job or that there's a job search out there." But he added that the board is "worried about what's in the pipeline."

Cliffs Natural Resources Inc. (NYSE:CLF): Current price $24.27
On Friday, Chinese exchange-traded funds and commodity-related stocks gained, with Cliffs Natural Resources jumping by 10 percent after China's data included a 9.7-percent increase in industrial production last month, marking its quickest pace since February. The number-one China ETF, the iShares China Large-Cap F, moved up by 0.8 percent on Friday while SPDR S&P China ETF jumped by 0.9 percent.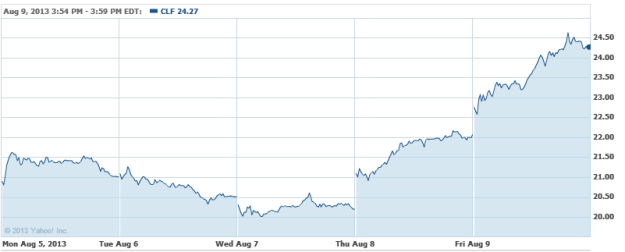 Peabody Energy Corp. (NYSE:BTU): Current price $17.86
Peabody Energy said Friday that it has named Heather A. Wilson as a member of its board. Wilson currently serves as President of the South Dakota School of Mines and Technology and is a former member of the United States House of Representatives, serving 10 years, a senior member of the House Energy and Commerce Committee, and Chair of the House Intelligence Subcommittee on Technical and Tactical Intelligence. She also served as Staff Director of Defense Policy and Arms Control for the National Security Council and founded Keystone International, Inc., a firm dedicated to international business development.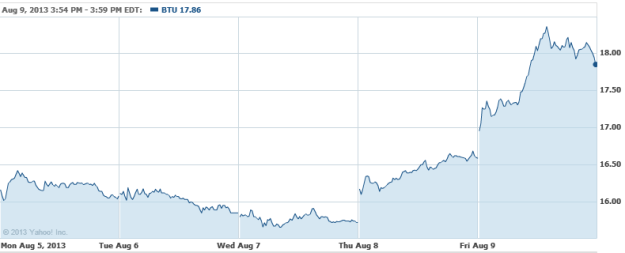 Don't Miss: 3 Crucial Court Cases Apple Is Dealing With.