Apple's 12-Core Mac Pro Shows Performance Boost in Benchmarks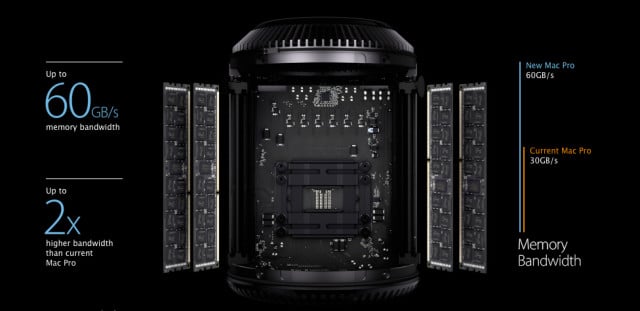 New Geekbench benchmark scores for Apple's (NASDAQ:AAPL) latest 12-core Mac Pro model have emerged online, reports MacRumors. Geekbench is a cross-platform processor benchmark suite designed by Primate Labs that uses various stress tests to determine a performance score for various computers.
Although a Geekbench score for the 12-core model appeared soon after Apple unveiled its radically redesigned Mac Pro at the Worldwide Developers Conference in June, MacRumors noted that the previous score was derived from a Geekbench 2 test and so was not comparable to the other 8-core and 6-core Mac Pro benchmarks derived under Geekbench 3. As noted by Primate Labs, Geekbench 3 is the latest processor benchmark and uses "a new scoring system that separates single-core and multi-core performance, and new workloads that simulate real-world scenarios."
According to MacRumors, there are three new sets of Geekbench results for the 12-core Mac Pro. Two results are from test runs in the 32-bit mode and the other result was derived from a 64-bit Geekbench 3 run. The average single-core performance score for the 32-bit tests was 2,909. Although the Mac Pro featured a high-end 12-core chip, its single-core performance score was actually lower than the single-core results from other Mac Pro models because the 12-core chip has a lower maximum clock speed.
However, the 12-core chip easily surpassed previous 12-core Mac Pro models in the multi-core benchmark test. According to Primate Labs via MacRumors, the average multi-core performance score for the new 12-core Mac Pro in the 32-bit mode was 29,721, topping the Mid-2012 model Mac Pro's score of 25,208.
The final performance score result was derived from a 64-bit version of Geekbench 3. The new 12-core Mac Pro achieved a single-core performance score of 3,214 and a multi-core performance score of 33,066. As noted by MacRumors, both of the 64-bit mode scores were approximately 10 percent higher than the 32-bit scores.
According to Primate Labs' John Poole via MacRumors, the latest benchmarks that have emerged for the 12-core Mac Pro are most likely legitimate. It should be noted that the 12-core Mac Pro is a particularly high-end custom configuration. According to Apple's website, the basic quad-core version of the Mac Pro will start at $2,999 and the six-core version will start at $3,999. However, according to a forum post cited by MacRumors, a fully loaded 12-core Mac Pro will cost around $10,000. The "maxed-out" version of the 12-core Mac Pro would include 1 terabyte of flash storage, 64 gigabytes of RAM, and dual AMD FirePro D700 graphics processors.
Apple's long-awaited new Mac Pro should become available before the end of the month. Although Apple has not provided a specific release date, its website currently features a banner that reads "Coming in December."
Here's how Apple traded on Friday.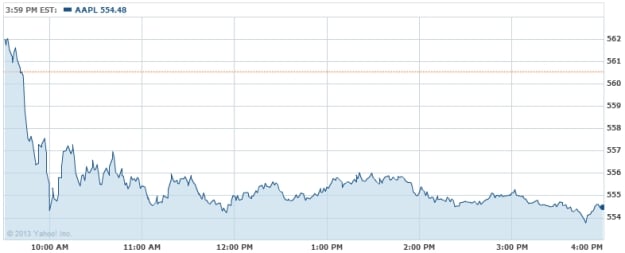 Follow Nathanael on Twitter (@ArnoldEtan_WSCS)
Don't Miss: 5 Amazing Apple Products That May Be Coming in 2014.