Apple's A7 Proves Love Affair With Samsung Is Far From Over

It appears that Apple's (NASDAQ:AAPL) dysfunctional supplier relationship with rival smartphone maker Samsung (SSNLF.PK) will continue into the foreseeable future. A recently completed teardown of the iPhone 5S done by Chipworks's researchers confirmed that the new A7 processor was manufactured by Samsung.
According to Chipworks via, IFixIt: "We have confirmed through early analysis that the device is fabricated at Samsung's Foundry and we will confirm process type and node later today as analysis continues. That being said, we suspect we will see Samsungs 28 nm Hi K metal Gate [HKMG] being used. We have observed this same process in the Samsung Exynos Application processor used in the Galaxy S4. Our engineers will be deprocessing the Apple A7 as soon as they can to confirm this or they can provide different information."
This teardown disproves earlier speculation from some commentators that Apple's 64-bit A7 chip may have been made by Taiwan Semiconductor Manufacturing Co. (NYSE:TSM) Apple has long been rumored to be reducing its dependence on Samsung for its components.
Chipworks also identified the M7 motion coprocessor as a "LPC18A1 device" made by NXP Semiconductors (NASDAQ:NXPI).

"The M7 is dedicated to processing and translating the inputs provided to it by the discrete sensors; the gyroscope, accelerometer and electromagnetic compass are mounted throughout the main printed circuit board," stated Chipworks, via IFixIt. "Traditional Apple techniques lead us to believe that these discrete sensors will most likely be STMicroelectronics (NYSE:STM) for the accelerometer and the gyroscope, while the electromagnetic compass would again be an Asahi Kasei Microdevices (AHKSY.PK). We have since confirmed the compass to be AKM's AK8963."
As reported by 9to5Mac, Chipworks also confirmed that Sony (NYSE:SNE) manufactured the new pixel camera sensor for the iPhone 5S. Although the iPhone 5S retains the same 8-megapixel resolution as the previous generation of iPhone, Apple boosted the camera's sensor size by 15 percent.
Here's how Apple has traded over the past week.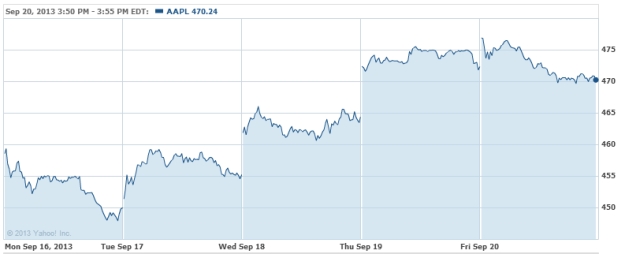 Follow Nathanael on Twitter @ArnoldEtan_WSCS
Don't Miss: NY Attorney General to iPhone Owners: Download iOS 7.