Apple's App Economy is Still $7 Billion Strong
It's another sour day for Apple (NASDAQ:AAPL) on the stock chart, but there's no reason some negative price movement should rain on everybody's parade. There's no hiding that the world's largest tech company has been experiencing what we'll call growing pains, as investors, analysts, and consumers battle their expectations for the company against reality.
The results, for the most part, have been messy. In many ways, the company's most-recent earnings were a case study for what happens when investors fundamentally disagree about the strength of a company. In the end, anyone who bought into the hype while the stock was running up for most of 2012 ended up disappointed. The stock has been in a down trend since late September.
Is Apple now a once-in-a-decade buying opportunity? Click here to get your 24-page Ultimate Cheat Sheet to Apple's Stock now!
But a company does not begin and end with its performance on the stock chart. Observers have suggested that Apple's path back to prosperity does not involve getting mired down in fights with shareholders and appeasing investors through increased dividends or iPrefs, but by focusing on adding real value to the company. That means fostering talent, innovating, and weathering the storm. Mixed into whatever cocktail for success that the company is bound to brew up is its iconic App Store and the massive community — pretty much its own economy at this point — of developers who support it…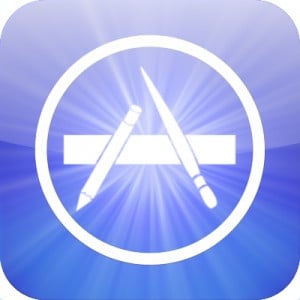 In January, Apple announced that customers had downloaded over 40 billion apps. Nearly half of those were in 2012 alone, yielding the obvious conclusion that the rate of download was increasing by orders of magnitude. There were over 2 billion downloads in December of 2012 alone, fueled by the over 500 million active accounts registered to the App Store.
Apple revealed that it paid out over $7 billion to developers in 2012. Like the rate of downloads, payments to developers are growing incredibly quickly, up from just $2.5 billion in July of 2011. This massive fire hose of dollars moving out of Apple and into the hands of developers has created a well-known industry all its own. Apple highlights two companies, Backflip Studios and Supercell, which brought in over $100 million combined.
The stock market is roaring back in 2013. Click here now to discover winning stocks!
But like many other markets, there's a considerable amount of inequity among app developers. Just 25 developers — not 25 percent, just 25 — accounted for 50 percent of Apple's U.S. App revenue in the first 20 days of November 2012, according to Canalys. Observers have used this as a snapshot of the industry at large.
Regardless, growing this community and the economy of applications and developers remains on of Apple's strongest spots. Long-term strength here will help create real value that will in turn be priced back into the stock.
Here's how Apple has traded over the past year: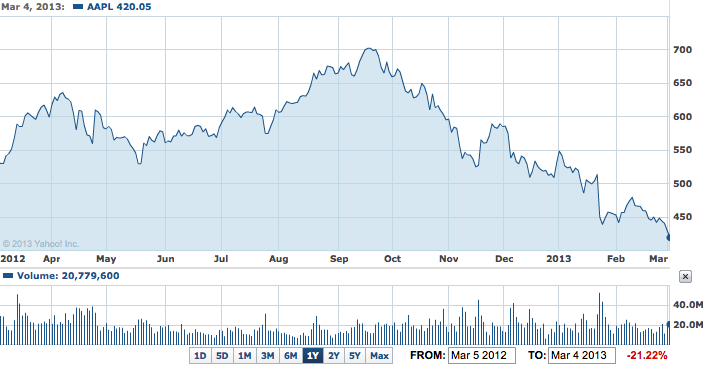 Don't Miss: 2013: The Beginning of the End for Feature Phones?