Apple's App Store is Pulling in the Dollars
Apple's (NASDAQ:AAPL) App Store generated more than $9 billion in revenue in the last calendar year, a year-over-year growth of 33 percent, according to a report from The Yankee Group. The study also estimated that App Store revenues will rise about 40 percent this year to $12.9 billion, grow another 26 percent in 2014 to $16.2 billion, move up 22 percent in 2015 to $19.8 billion, and see a growth of 13 percent in 2016 to $22.4 billion.
Should you buy or sell Apple's stock ahead of earnings this month? Our 20-page proprietary analysis will help you save time and make money. Click here to get your SPECIAL REPORT now.
"Apple is holding onto its global lead in app downloads," Yankee Group's Jason Armitage said in a statement. "Survey data show that a quarter of U.S. consumers used the App Store in the last quarter of 2012. Despite fierce efforts from competitors, that percentage actually inched up over the course of last year. This is a testament to the attractions of Apple's app storefront for both developers and consumers in major markets."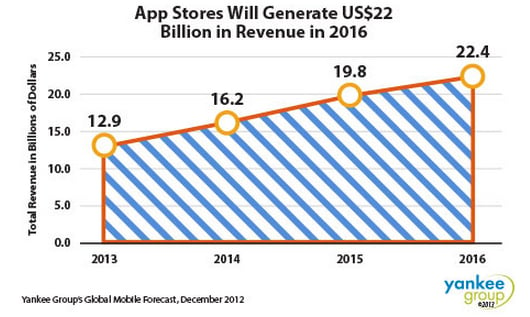 Start 2013 better than ever by saving time and making money with your Limited Time Offer for our highly-acclaimed Stock Picker Newsletter. Get our fresh Feature Stock Pick now!
Last week, Apple said in a press release that a total of 40 billion apps have now been downloaded from its iOS App Store, with almost half of those downloads taking place last year. The 40 billion figure excluded re-downloads and app updates. In addition, December 2012 was a record-breaking month and saw more than two billion downloads. The store now has more than 500 million active accounts and iOS developers have been paid more than $7 billion, the company added.
Here's how shares of Apple rounded out the trading week: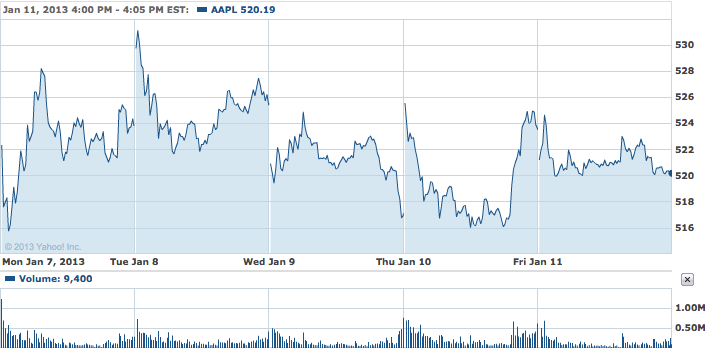 Investing Insights: Apple Chart of the Day: The iPhone Leads the Way.