Apple's App Store on Track for Increased Revenue and 3 Tech Titans on the Move
Google Inc. (NASDAQ:GOOG): Current price $735.53
Google Inc.'s Eric Schmidt ended a controversial trip to North Korea on Thursday, during which he urged the isolated state to embrace the Internet or face further economic decline.

Microsoft Corporation (NASDAQ:MSFT): Current price $26.29
Microsoft has purchased id8 Group R2 Studios, the home-automation start-up, for an undisclosed amount. The Wall Street Journal reported last week that Microsoft had beaten Google and Apple to the punch to acquire R2 Studios. However,  it was not until Microsoft issued the confirmation on January 10 that the Softies confirmed that the deal was done.

Are these stocks a buy or sell? Let us help you decide. Check out our Stock Picker Newsletter now.
Apple Inc. (NASDAQ:AAPL): Current price $516.94
Apple Inc.'s App Store is on track to generate over $9 billion in revenue, which would be a 33% increase from 2011's $6.9 billion and just over 5% of total company revenue. The margins for this segment should be improving, since originally, a large portion of sales came from music, which had very low margins. At the present time, Apple takes a 30% cut of app sales.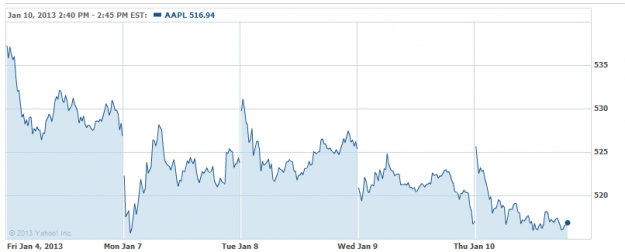 Intel Corporation (NASDAQ:INTC): Current price $21.70
Troy Wolverton, ARM's lead mobile strategist, and James Bruce believe that chip leader Intel should cast off their long relationship with the x86 architecture and embrace ARM's architecture. His reasoning is that Intel is struggling to gain traction in the mobile market. Bruce claims that some estimates put Intel's share of the market at only 0.2% and that embracing ARM is a fast-track to gaining more influence over the mobile space.

Don't Miss: Did Tim Cook Broker a China Mobile Deal?