Apple's Big July Jump and 4 Other Hot Stocks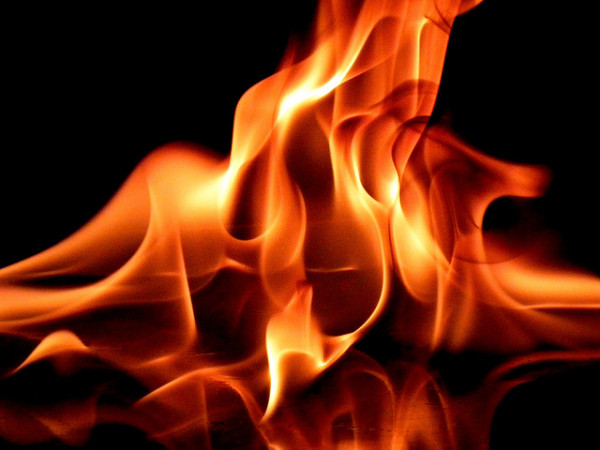 The most hated bull market in history continued to charge higher in July, as all three major averages logged impressive gains. Concerns still remain about future growth, but several well-known companies outperformed the market with the help of upbeat earnings.
In July, the Dow Jones Industrial Average increased 4 percent, while the S&P 500 and Nasdaq gained 5 percent and 6.6 percent, respectively. All three major averages had their best July since 2010, and the Nasdaq posted its best month of the entire year to reach its highest level in over a decade. The S&P 500 only had six down days in July.
Here's a look at five popular companies that caught fire in July:
1. Apple (NASDAQ:AAPL):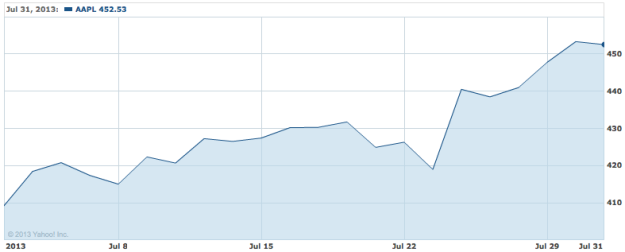 The tech giant started the year on a sour note, but jumped 14.1 percent in July. In the most recent quarter, Apple reported a net profit of $6.9 billion, compared to $8.8 billion a year earlier. Despite the year-over-year decline, it beat analysts' estimates. Furthermore, the company said new products are on the way.
"We are really excited about the upcoming releases of iOS 7 and OS X Mavericks, and we are laser-focused and working hard on some amazing new products that we will introduce in the fall and across 2014," explained Tim Cook, chief executive officer.
2. Bank of America (NYSE:BAC):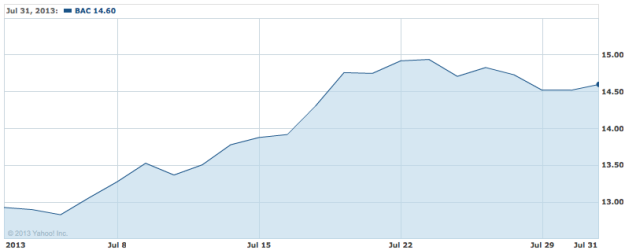 The financial sector has been the prime beneficiary of the Federal Reserve's highly accommodative monetary policy. Shares of Bank of America climbed 13.5 percent in July, making it the best performer on the Dow.
For the second quarter, Bank of America reported earnings of $4 billion, up 63 percent from the prior year.
"At the beginning of the year, we said we would focus on three things — revenue stability, strengthening the balance sheet and managing costs," said Bruce Thompson, chief financial officer. "This quarter, we delivered on all three. Revenue increased 3 percent, we continued to build capital ratios, despite the negative impact of higher interest rates on our bond portfolio, and we reduced expenses related to servicing delinquent mortgage loans at a faster rate than we originally expected."
3. Tesla Motors (NASDAQ:TSLA):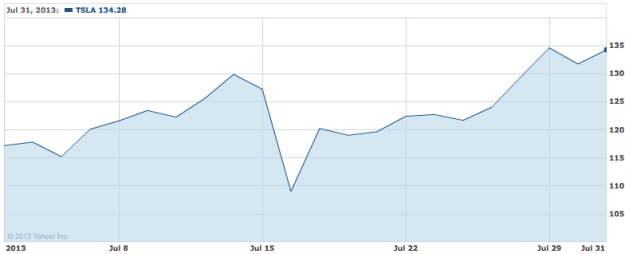 The California-based company is having a record-breaking year. Shares gained 25 percent in July, and are up almost 300 percent year-to-date.
Most recently, Tesla was added to the Nasdaq 100, and received an upgrade from analyst Dan Galves at Deutsche Bank from Hold to Buy. Galves said the electric-car manufacturer "has taken a very large step ahead of the competition." Galves also shifted his price target to a higher gear, from $50 to $160 per share, saying the stock could more than double in three or four years time.
4. Herbalife (NYSE:HLF):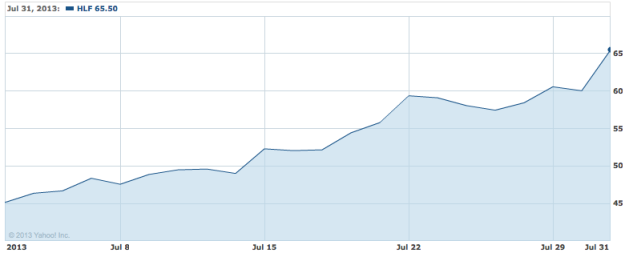 Shares of the global nutrition company surged 45 percent in July, and have almost doubled this year amid a highly publicized hedge fund battle.
Bill Ackman, founder of Pershing Square Capital Management, believes Herbalife is a pyramid scheme, and has shorted more than 20 million shares. However, billionaire Carl Icahn believes Herbalife could be the "mother of all short squeezes," and has a long position in the stock. Adding insult to injury, reports indicate that George Soros' hedge fund is also long Herbalife.
5. Facebook (NASDAQ:FB):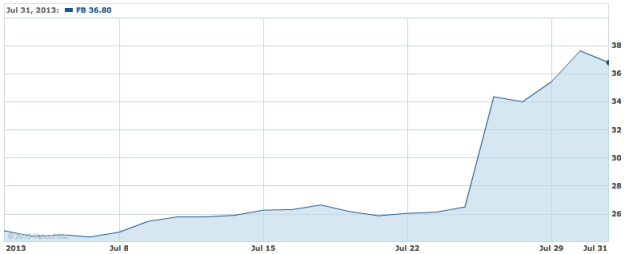 It took over a year of trading, but the social-media company finally recaptured its initial public offering price of $38. Shares increased 47.9 percent in July, with the majority of the gain coming in the final week.
Wall Street liked Facebook's latest round of earnings. The company earned 19 cents per share, beating estimates of 14 cents per share. Compared to the prior quarter, the number of daily active users grew from 665 million to almost 700 million.
"We've made good progress growing our community, deepening engagement and delivering strong financial results, especially on mobile," said Mark Zuckerberg, Facebook CEO. "The work we've done to make mobile the best Facebook experience is showing good results and provides us with a solid foundation for the future." Revenue surged 53 percent higher from a year earlier.
Don't Miss: History and Warren Buffett Say Cash Is a Terrible Investment
Follow Eric on Twitter @Mr_Eric_WSCS