Apple's China Speculation, GameStop's Strong Quarter, and 3 More Hot Stocks
Apple Inc. (NASDAQ:AAPL): An announcement from China Mobile (NYSE:CHL) is fueling speculation that the carrier — which boasts 700 million subscribers — might use the opportunity to announce the arrival of the iPhone, as The Wall Street Journal has previously reported that Apple is gearing up to ship iPhones to China Mobile, while Chinese regulators have approved the iPhone for use on the carrier's 3G and 4G networks.
GameStop Corp. (NYSE:GME): Despite earnings per share of 58 cents and revenue of $2.11 billion, which both beat (revenue grew 20.5 percent), shares are trading lower as investors zero in on what they consider to be weak guidance from the company for the critical fourth-quarter holiday period. GameStop is eying EPS of $1.97-$2.14 versus the $2.15 consensus on its view that comparable store sales will range somewhere between 2 percent and 9 percent during the period.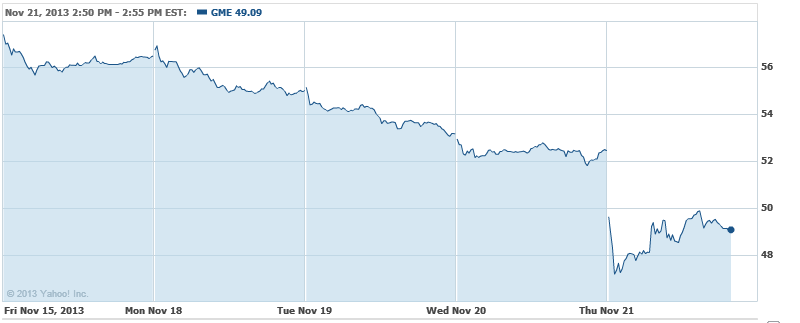 AstraZeneca Group (NYSE:AZN): AstraZeneca shares are up as speculation swirls that the company may be interested in purchasing Actelion, according to Citigroup. "Creative corporate finance … coupled with 'long runway' acquisitions such as Actelion could provide a useful bridge to organically fueled growth," Citi says, noting that the deal would boost operating profits by some 12 percent for AstraZeneca.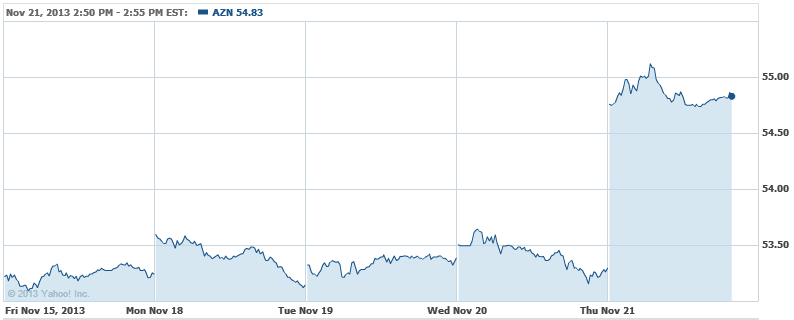 Facebook Inc. (NASDAQ:FB): Facebook is "an investment in a large-scale data-rich platform run by a group of highly innovative people who are likely to continually develop more ideas for improving engagement and monetizing it," according to FBR Capital's William Bird, who added in a bullish note that "no one really knows how big Facebook can be" and thinks that it has a "significant greenfield opportunity in front of it," and that its ad pricing is "inflecting." Facebook shares are up 1 percent in response.

Vodafone Group (NASDAQ:VOD): "We have a strategy and we are putting a lot of money into it, but if somebody comes and says, 'You have really beautiful assets,' then I will agree," said CEO Vittorio Colao, signaling that Vodafone may be open to acquisition talks. AT&T (NYSE:T) is rumored to be looking at the possibility of making a bid for the company to help stretch its fingers outside of the domestic market.

Don't Miss: Here Are the Latest Large-Screen iPhone Rumors.