Apple's Cook Puts Families Before Profit with Thanksgiving Day Store Closures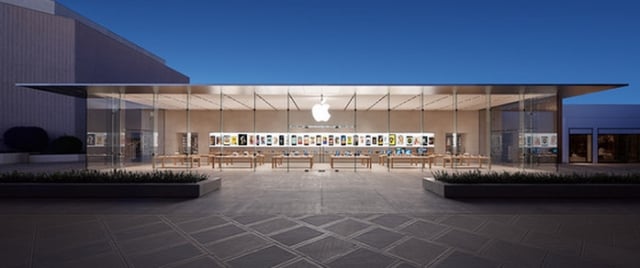 Although many company executives like to pay lip service to the importance of employees spending time with their families, Apple Inc. (NASDAQ:AAPL) CEO Tim Cook put his money where his mouth is. As reported by ifo Apple Store, Cook recently overruled his retail market directors and insisted that all Apple Store locations remain closed for the Thanksgiving holiday this year so that employees could spend time with their families.
Although Apple usually does keep certain locations frequented by tourists open during the holiday, the company has gradually been expanding the number of stores it's kept open in the past several years. According to sources who spoke to ifo Apple Store, Apple's retail market directors were pushing to leave even more locations open this year in order to get a head start on the Black Friday shopping rush. The U.S. holiday shopping season traditionally starts the Friday after Thanksgiving.
Apple's market directors were hoping to boost their December-quarter sales numbers in order to qualify for larger quarterly bonuses, according to ifo Apple Store. Traffic at Apple's retail stores tends to peak during the holiday shopping season, especially after new product releases. This year, Apple launched the 9.7-inch iPad Air on November 1 and the 7.9-inch iPad mini with Retina display on November 12.
After initially going forward with plans to keep 10 additional Apple Stores open during the Thanksgiving holiday, Cook decided to cancel the store openings. According to ifo Apple Store's sources, "Cook's specific objection was that it's important for Apple retail employees to be with their families on the holiday."
Although it's not clear how much a handful of store closures will impact Apple's fourth-quarter retail revenues, Apple CFO Peter Oppenheimer revealed in the company's fiscal fourth-quarter earnings call that each of the 411 Apple Stores open during the September quarter made an average of $10.9 million in revenue. And according to Customer Growth Partners data cited by The Wall Street Journal, Apple Stores are the most successful retail stores in the U.S. based on sales per square foot, bringing in an estimated $4,542 per square foot.
Although Apple may lose some quarterly revenue due to the Thanksgiving Day store closures, Cook will likely garner much appreciation from Apple Store employees for his decision to put their holiday interests before profits.
Follow Nathanael on Twitter @ArnoldEtan_WSCS
Don't Miss: Apple Stores May Soon Get This Interactive Shopping Technology.