Apple's Cook Visits China, UBS Swings Back to Black, and 3 More Hot Stocks
Apple Inc. (NASDAQ:AAPL): Tim Cook appears to be making a personal pitch to local telecoms in China, with speculation swirling around the cheaper, plastic-bodied iPhones designed for emerging markets since the official reason for the CEO's visit was not revealed. Apple is already partnered with China Telecom and its 700 million or so subscribers, and the visit could be a preemptive move before a new phone release. It's Cook's third visit to the country since he took the reins at the company.

UBS AG (NYSE:UBS): Shares are rallying after the bank announced that its pre-tax profit is back in black, booking a 775 million franc profit over a 92 million franc loss from the same period last year. Net profit surged 32 percent to 690 million francs, and the company announced its plans to repay a loan and repurchase shares in a fund created under the conditions of the bank's 2008 bailout. UBS can pay $1 billion plus 50 percent of the fund's gains to acquire it from the Swiss National Bank; the firm expects to follow through with the transaction later this year.

Barclays (NYSE:BCS): Shares are dropping over 7 percent as Barclays announces a pre-tax profit of  3.59 billion pounds, a 17 percent decrease year-over-year. The bank will also issue 5.8 billion pounds in new shares in order to meet regulatory compliance to boost its capital, and will offer stockholders one new share for every four they own at 185 pence each, far below the bank's closing price of 309.05 pence on Monday.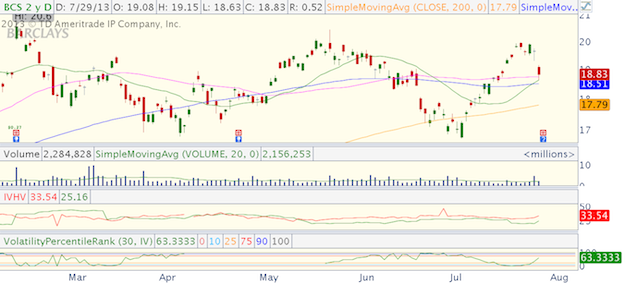 Hess Corp. (NYSE:HES): Hess has agreed to the sale of its energy marketing business to the British utility Centrica's North American arm, Direct Energy Business, for $731 million in cash plus networking capital of  about $300 million. The sale is a further expansion of Hess's desire to focus almost solely on its exploration business and will bring the total year-to-date asset sales figure to about $4.5 billion.

Barnes & Noble (NYSE:BKS): Barnes & Noble is having book problems — several, actually. Though book sales have been steadily declining, the retailer's biggest headache right now is its own financial books, which reportedly contain "material errors" that could trace back to 2011 or so. Apparently, the accounting errors resulted from "inadequate controls over the accrual reconciliation process at its distribution centers," according to the company.

Don't Miss: Report: Samsung Takes a Bite Out of Apple in Patent Suit.