Apple's Debt Logistics, Suncor's Strong Quarter, and 3 Other Hot Stocks
Apple (NASDAQ:AAPL): Early speculations are showing up over Apple's debt offering. Whispers indicate that it could be 3-year notes priced around 35 basis points over comparable-maturity Treasury notes, and 10-year notes priced 90-95 basis points above. A 3-year Treasury currently yields 0.31 percent, and if borrowing at 0.66 percent, Apple can buy back shares yielding nearly 3 percent.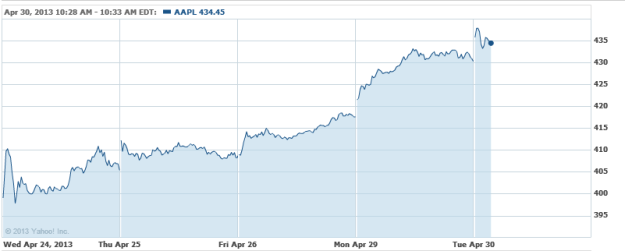 Suncor Energy (NYSE:SU): Earnings of $0.90 beat estimates by $0.15, a substantial margin over expectations. Strong performance from oil sands production averaged a record of 357,800 barrels per day, up from 305,700 a year earlier, as its steam-driven Firebag project increased its production levels. Total upstream production rose to 596,100 BOE per day from 562,300 in the same quarter last year. The company also hiked its quarterly dividend 54 percent, to $0.20.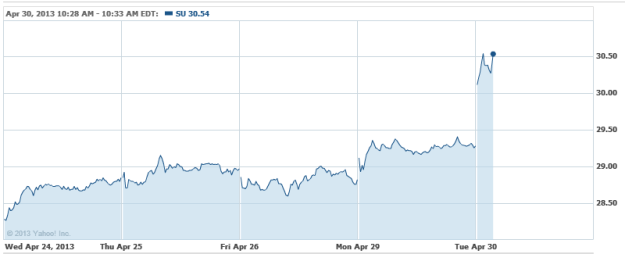 Transition Therapeutics (NASDAQ:TTHI): Stocks of Transition are soaring in markets today, after the favorable results of its proof of concept study for its Type 2 diabetes drug TT-401. "Significant improvements in glycemic control and reductions in body weight" were shown in participating patients, as the company moves closer to approval.

Royal Dutch Shell (NYSE:RDSA): Shell has appointed the head of its Australian operations, Ann Pickard, to take charge of the U.S. Arctic operations and fill the seat of David Lawrence who left following a series of unfortunate setbacks that spurred the company into canceling its 2013 Arctic drilling plans.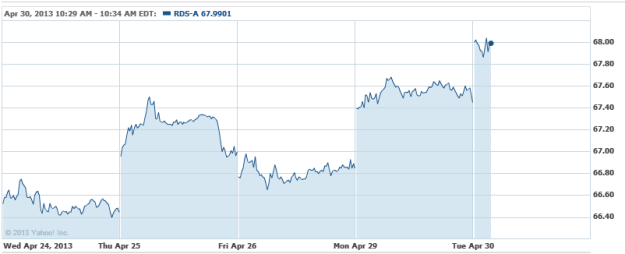 Aetna (NYSE:AET): Earnings of $1.50 beat estimates by $0.12, although revenues of $9.51 billion came up $0.14 billion shy of projections. Higher expenses bit into the revenue stream, though the operating expense ratio fell while memberships grew for the fourth straight quarter, a result from strong Medicare business. The company also raised its 2013 outlook, to $5.50-$5.60 per share.

Don't Miss: Does This Patent Application Foretell a New Product from Apple?