Apple's Domination of the Education Tablet Market Is Here to Stay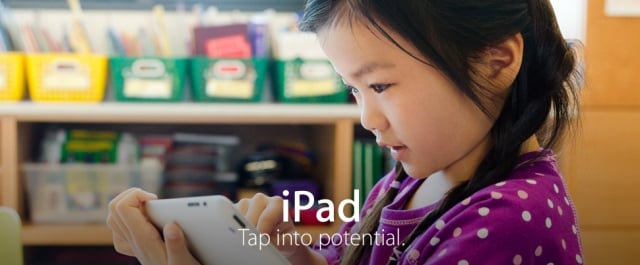 During Apple Inc.'s (NASDAQ:AAPL) fourth-quarter earnings call last week, CEO Tim Cook capitalized on many of the tech giant's most recent successes, but he especially drew focus to the company's domination of the education tablet market. Saying that he had "never seen a market share that high before," Cook was quick to point out figures that suggest the tech giant's grip on the industry — and, as it turns out, the CEO wasn't lying.
It's a common practice for company executives to exaggerate the success of their business; however, Apple Insider reports that Apple's control over the education tablet market might even be more significant than expected, and there is still room for growth. Based on the results of a recent survey that gauged educators' interest in employing tablets, there is almost near-unanimous agreement that the tablets will soon enter any classrooms they haven't already.
The developer of one iOS education app, PocketPhonics, conducted a survey of 374 parents and 160 teachers throughout the U.S., and the company found that almost all of those assessed shared an agreement that tablets would soon be used in all elementary schools and preschools, with 83 percent of parents asserting that they would support the initiative. As of now, Apple owns 94 percent of the education tablet market, but only 25 percent of American elementary schools have tablets, though that number is expected grow significantly, instantly adding to Apple's sales.
Normally, the increase in tablet demand would open up the playing field for other tech giants like Microsoft Corp. (NASDAQ:MSFT) and Samsung Electronics (SSNLF.PK), but this doesn't prove to be the case for the education tablet market, because many education software developers now only create content for Apple iPads. According to Apple Insider, only one of the 10 most popular educational apps is currently available for Google Inc.'s (NASDAQ:GOOG) Android, the major tablet operating system, and developers don't plan on changing their tune unless competitors can prove their capability in the market.
John Friend, the managing director of PocketPhonics said to Apple Insider: "The fact that the iPad is so strong in education makes it difficult to justify developing for any other platform. I would love to find new markets for the PocketPhonics app. But with such a small slice of the education pie, the Android market is currently too small to support the costs of developing an app."
This leads to non-iPad tablets suffering a lack of available educational content, and thus a lack of customers. It is possible that once the industry becomes more flooded, Apple will have more competition on the education tablet front, but until then, developers are at the mercy of consumer demand.
Don't Miss: What Is Apple Going to Do About Its Dividend?