Apple's E-Book Injunctions, PNC Shutters Market Street, and 3 More Hot Stocks
Apple Inc. (NASDAQ:AAPL): U.S. District Judge Denise Cote has laid out the injunction for Apple's e-book pricing scandal. The company is forbidden from enforcing most-favored nation clauses in any e-book publishing contracts for five years, and it also forbids the company from entering into any book publishing contracts that contain them for five years. Apple is also required to stagger new contract negotiations with the settling publishers; largely, the ruling falls in line with the Department of Justice's hopes. Apple plans to appeal the injunction.

PNC Financial Services Group (NYSE:PNC): PNC will be bringing the operations of its variable interest entity, Market Street Funding, a vehicle which allows the bank to make off-balance sheet investments — "Think subprime mortgages in the last cycle," Seeking Alpha says — to a halt. The action is likely a direct result of a Department of Justice probe into the bank's issuing habits of mortgages.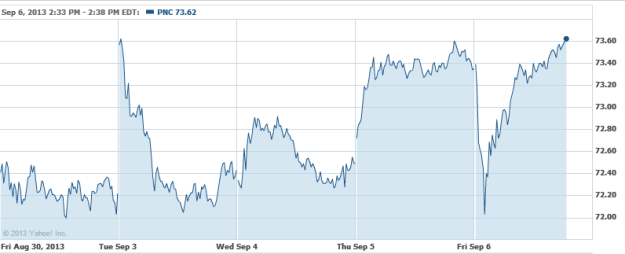 CBS Corp. (NYSE:CBS): CEO Les Moonves believes that parity will be reached between TV ads and online advertising within three to five years — so, essentially, it won't matter to the networks where the content is watched. "If you go on a college campus today," Moonves said, "most of the kids are watching their shows online."

Herbalife (NYSE:HLF): "I can think of few who are even in [Post Holdings CEO William] Stiritz's league both as an investor and as a food industry executive," DA Davidson's Tim Ramey says, reiterating a Buy rating on Herbalife with a $92 price target. The company "will likely issue investment-grade debt to finance the massive repurchase we foresee," he said, adding that "damages KPMG [may] owe to Herbalife [for effectively delaying the buyback earlier this year] could well be $500 million to $1 billion."

Cisco Systems Inc. (NASDAQ:CSCO): Reports are indicating that Cisco is gearing up to launch the NCS 6000, a core router and optical transport platform that is intended handle diverse IP traffic loads with ease, and helping to contend with the growing percentages of mobile-based traffic. The 6000 could be a sturdy stepping stone in helping Cisco rebound from a tough July quarter.

Don't Miss: Will Apple's Asia Ambitions Soon Be Realized?