Apple's Early iPad Reviews Are Positive, Visa Results Don't Impress, and 3 More Hot Stocks
Apple Inc. (NASDAQ:AAPL): The first few reviews for the new iPad Air have so far been positive. Walter Mossberg says that "if you can afford it, the new iPad Air is the tablet I recommend, hands down." While CNET compliments the Air's design makeover, its improved front camera, and the "ridiculously fast" performance of its A7 CPU, it wishes the tablet had an 802.11ac Wi-Fi radio and a fingerprint sensor. Separately, Apple has released its 2013 10-K, in which it states a fiscal-year 2014 capex budget of $11 billion; that's 57 percent higher than the $7 billion budget created for 2013.
Visa Inc. (NYSE:V): Visa shares are sliding after it announced earnings per share of $1.85, in line with expectations, though revenue of $3.02 billion fell short, by $20 million. A $5 billion stock buyback wasn't enough to convince investors to stay on board; total processed transactions for the quarter ended September 30 clocked in at $15.5 billion, a 14 percent increase over the prior year. The company bought back 7 million shares during the period.

Delta Air Lines (NYSE:DAL): Delta has become the first major U.S. carrier to submit a plan to the Federal Aviation Administration to receive permission for customers to use portable devices at altitudes of under 10,000 feet during the take-off and landing stages, essentially allowing the use of such devices throughout all stages of flight. The FAA has determined that the expanded use of electronic devices does not pose a risk to aircraft communications.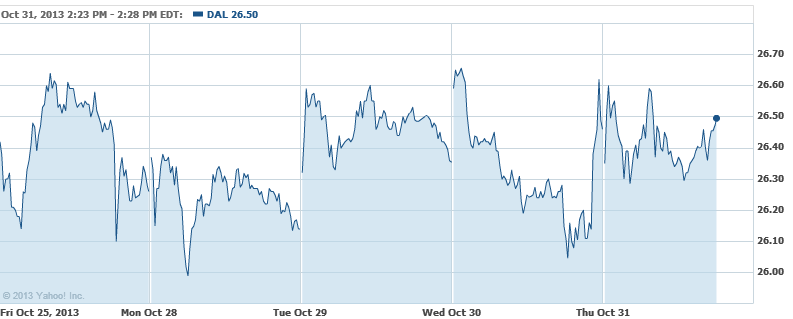 Alcatel-Lucent (NYSE:ALU): Shares of Alcatel-Lucent are surging over 15 percent after the company reported losses that narrowed considerably, at 200 million euros from 316 million euros a year earlier, besting analyst expectations of 274 million euros, an indication that payroll cuts and other factors are helping progress the Alcatel's turnaround plan. Revenues grew a modest 1.9 percent, to 3.67 billion euros, but that was enough to beat projections.
Starbucks Corp. (NASDAQ:SBUX): A beat on earnings (EPS of 63 cents, beating by 3 cents) and a bullish note from Goldman Sachs has lifted Starbucks shares only slightly, as revenue of $3.8 billion fell in line with expectations. Starbucks says it's had "stunning" success in the Americas, where it saw 8 percent comparable-store sales growth driven by a 5 percent increase in traffic and a 3 percent leap for the average bill. CFO Troy Alstead says that an increase in food sales won't hurt margins due to the "extremely accretive" nature of adding the items to store.

Don't Miss: Apple Keeps Tablet Market Crown Despite Android's Growth Spurt.