Apple's eBook Trial Warning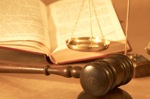 Apple (NASDAQ:AAPL) said during closing statements at the ebook trial that a guilty verdict was going to "send shudders through the business community." Apple lawyer Orin Snyder said that this outcome would set a dangerous precedent, according to Reuters.
The Department of Justice (DOJ) has accused Apple of setting their prices at  $12.99 or $14.99 for ebooks and intending to hurt their competitor Amazon (NASDAQ:AMZN), which sells many ebooks for $9.99.
The DOJ is not trying to get damages in this case. Instead, the agency wants to prevent the company from using an "agency model" or two and five year price-parity contract clauses.
Snyder commented on the effect being convicted of violating antitrust laws and of being the ringleader in a conspiracy to set the price of ebooks would have. Apple would need to have what Snyder called "hermetically sealed" meetings to ensure that others in the industry did not know what they were planning. It would also completely change the ways deals are made.
Trying to prove a conspiracy, the government used documents from Apple as evidence. Additionally, the Justice Department Attorney Mark Ryan pointed out that Apple senior vice president of software and service Eddy Cue testified he not only knew that publishers wanted to raise prices but also helped them do it.
The trial took place over three weeks in a district court in Manhattan. Closing arguments were given on Thursday, and Judge Denise Cote is expected to rule on the case in about two months.
Don't Miss: 5 Reasons Apple Is Owning the E-Book Trial Now.