Apple's Expanding iTunes Radio, Facebook Gets Downgraded: Market Recap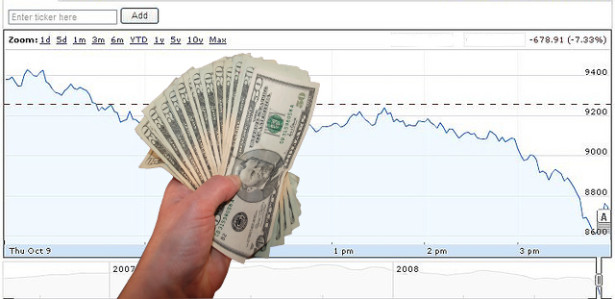 U.S. stocks fell during trading today as investors have become increasingly concerned that the U.S. government will default on its debt. The U.S. Treasury has said that it will run out of measures to avoid surpassing its borrowing limit on October 17, and the Congressional Budget Office has said that if an agreement is not reached the U.S. will default on its debt by the end of the month. Alcoa Inc. (NYSE:AA) will kick off earnings season when it reports earnings after the bell.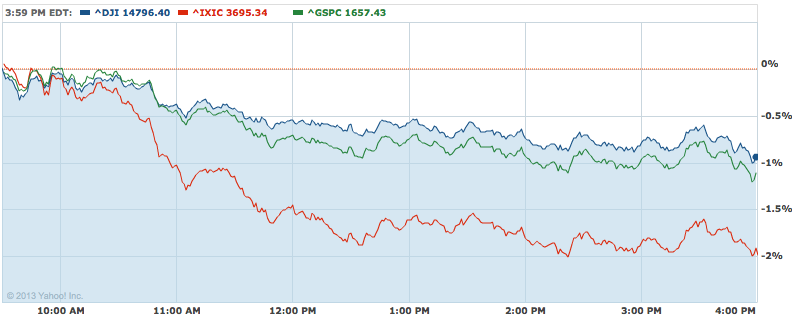 Gold: -0.46% to $1,319.00 per ounce Oil: +0.47% to $103.51 per barrel U.S. 10-Year: +0.08 to 2.636%
5 Reasons You Should Be Very Scared of a U.S. Default: On October 1, Treasury Secretary Jacob Lew sent a letter to Congress reiterating an increasingly urgent message: if Congress does not act to raise or suspend the statutory debt limit, the U.S. government could default on its financial obligations.
The Government Shutdown Is Hurting Americans' Confidence and Spending: Dropping from an October 2009 peak of 10 percent, the headline unemployment rate stands at 7.3 percent — a nearly five-year low. The last time unemployment was so low was December 2008. The problem is that while unemployment has dropped several percentage points in the past several months, the decrease has come from individuals dropping out of the labor force, rather than because of any significant growth in hiring.
Moody's: The Debt Ceiling and Default Don't Go Hand in Hand: The U.S. government has stumbled into the second week of a partial shutdown, but it's the looming debt ceiling that is dominating the fiscal conversation in the country. Treasury Secretary Jack Lew has made clear that the extraordinary financing measures currently being employed to pay the nation's bills will run dry come October 17.
Here's your cheat sheet to today's top stocks stories:
Yum Brands (NYSE:YUM), the owner of KFC, Pizza Hut, and Taco Bell, will report its third-quarter earnings after the market close on Tuesday, and investors will learn whether Yum has managed to reverse its six-month trend of sales declines. Shareholders will be especially interested to see how Yum restaurants have fared in China.
Alcatel-Lucent (NYSE:ALU) on Tuesday confirmed plans to cut 10,000 jobs worldwide by 2015 as the struggling French-American telecom equipment maker tries to kick the Alcatel turnaround story into high gear. The announcement was made during Alcatel-Lucent's European works council meeting Tuesday, Reuters reports.
Facebook (NASDAQ:FB) tripped and fell as much as 6 percent in early afternoon trading Tuesday after getting slapped with a downgrade from financial services firm Raymond James. The firm, citing Facebook's now enormous valuation, pulled Facebook's stock down from Strong Buy to Buy but raised its price target from $39 to $56 per share.
Apple's (NASDAQ:AAPL) iTunes Radio was only released last month, along with the iOS 7 update, but Apple already has big plans for the service that will further challenge Pandora Media's (NYSE:P) competing online radio service. According to people familiar with the matter who spoke to Bloomberg, Apple will expand iTunes Radio into Canada, Australia, New Zealand, and the U.K. by the beginning of 2014.

Amazon.com Inc. (NASDAQ: AMZN) came out on top following an attempt by International Business Machines Corp. (NYSE: IBM) to reopen bidding for a cloud computing contract with the U.S. Central Intelligence Agency worth $600 million. Earlier this year, the U.S. Government Accountability Office recommended that the CIA re-evaluate its contract negotiations following IBM's initial claims that bidding had been unfair.

J.C. Penney (NYSE:JCP) reports that comparable store sales fell 4 percent in September to show an improving trend, while online sales finally showed some strength. However, J.C. Penney struck a cautious note, pointing out that clearance efforts would still put pressure on the company's margins. J.C. Penney also says it will have more than $2 billion on tap for liquidity at the end of the year after it takes into account the common stock offering.
Follow Jacqueline on Twitter @Jacqui_WSCS
Don't Miss: Will iPhone 5S Motion Sensor Problems Throw Apple Off Balance?