Apple's Green Energy Efforts in North Carolina Inspires Industry Shift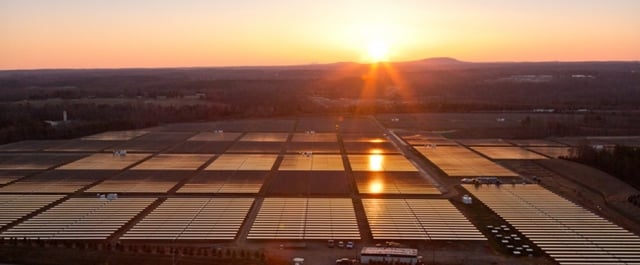 Did Apple's (NASDAQ:AAPL) renewable energy initiatives in North Carolina boost the state's clean energy industry? As noted by GigaOM, North Carolina-based Duke Energy (NYSE:DUK) recently requested regulators for permission to begin selling clean power to large energy customers in the state. Oddly enough, the North Carolina utility was previously not allowed to sell energy derived from clean sources such as solar and wind. Duke Energy currently derives most of its power from nuclear, coal, and hydroelectric generating facilities.
Many industry watchers have credited Google (NASDAQ:GOOG) for Duke Energy's turn towards clean energy sources. As noted by GigaOM, Google has been leading the effort to purchase clean energy from the utility ever since it announced plans to build a data center complex in Lenoir, North Carolina. However, according to GigaOM, another tech company with a data center in North Carolina may have actually been the primary catalyst for the clean energy changes in the state.
Although Apple has been less vocal than Google in the effort to buy clean power from Duke Energy, the Cupertino-based company may have quietly pushed the utility towards renewable energy sources when it made the decision to build its own solar farm in 2012. According to GigaOM, Apple decided to build its own renewable energy source rather than waste time haggling with Duke Energy and state regulators over the ability to buy clean power from a utility.
As noted on Apple's website, the data center in Maiden, North Carolina is powered by a 100-acre, 20-megawatt onsite solar photovoltaic array, as well as a second 20-megawatt solar farm on nearby land. Apple has also built a 10-megawatt fuel cell installation that runs on biogas. According to Apple, the solar photovoltaic array is the largest end user-owned installation in the country. Similarly, the fuel cell installation is the largest in the nation not owned by a utility.
By demonstrating its willingness to create its own renewable energy power stations when clean power wasn't available to purchase from the utilities, Apple may have inadvertently pushed Duke Energy into the clean energy business. After all, nothing speaks louder than money, and Duke Energy lost a huge corporate customer when Apple decided to opt out of the established "dirty" energy system.
Although Apple's renewable energy facilities in North Carolina were rumored to cost around $1 billion, the tech company can now boast that it was using clean energy in the state before it was widely available to other companies. The iPhone maker's pioneering efforts to create its own clean energy sources has also helped the company get closer to its stated goal of 100 percent renewable energy usage at every Apple facility. The company has already achieved this goal for its data centers and is currently at 75 percent for its corporate facilities worldwide.
Follow Nathanael on Twitter (@ArnoldEtan_WSCS)
Don't Miss: Few Buyers at Historic Apple Computer Auction.