Apple's iOS in the Car Is Stuck in Park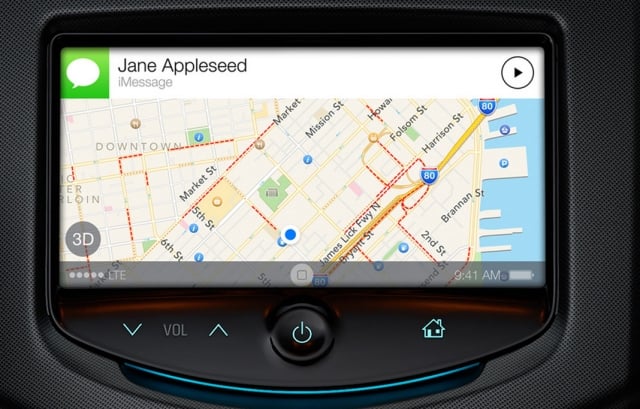 Apple's (NASDAQ:AAPL) efforts to corner the market for in-car infotainment systems have apparently hit a rough patch. Repeated delays for the release of iOS in the Car have been caused by hardware-focused Apple executives not being sure how to approach the company's new automotive strategy, according to a report from The Information seen by AppleInsider.
Apple's smartphone vehicle integration technology was first introduced at the Worldwide Developers Conference this summer and included as part of iOS 7. As explained by Apple, "If your vehicle is equipped with iOS in the Car, you can connect your iPhone 5 or later and interact with it using the car's built-in display and controls or Siri Eyes Free."
The Information's report claims that in Apple's hardware-centric corporate culture, executives have had a hard time figuring out how to organize the iOS in the Car system within existing teams. According to sources who spoke to The Information, the iOS in the Car team had to fight for stage time at WDC. The news source claims that Apple is still unsure where iOS in the Car is going, or how to get it there.
While Tim Cook said after the WDC presentation that iOS in the Car would remain a "key focus" for the company in 2014, development still seems to be moving slowly. Automakers like Mercedes-Benz and Ferrari have announced that they will include Apple software in their infotainment systems, but nothing more has come of those partnerships as of yet.
General Motors (NYSE:GM) was one of the first to jump on the iOS in the Car bandwagon. The system has gotten rave reviews from the 2014 Chevrolet owners that got first dibs on the Apple infotainment system. The 2014 Camaro, Cruz, Equinox, Malibu, SS, Volt, Spark, and Sonic all come equipped with iOS in the Car. The system has now been in place for several months, offering some time for customer feedback. That response was characterized in a press release as "remarkable" by Chris Perry, Chevy's U.S. marketing vice president.
By connecting an iPhone to MyLink and Siri Eyes Free, drivers can access iTunes to play music, make phone calls, have messages read to them, and dictate texts or iMessages. Car and Driver's coverage of Chevy's extension of Siri offerings predicts that General Motors will add the capability to an increasing number of vehicles in the coming years based on the popularity of the system and Apple's iPhone.
A report from ABI Research released back in November suggested that Apple could corner at least half of the vehicle infotainment market by 2018. The consumer's ability to choose familiar apps will weigh heavily on the decision of which in-vehicle infotainment package works best. On that front, the continuity between Apple's proprietary OS through smartphone, computer, tablet, and car system apps will be formidable.
The company released a YouTube video showing off the features of iOS in the Car on Tuesday, but it's still not known which vehicles will support Apple's system or when it will begin to be integrated into those vehicles and make it into the hands of consumers.
If organizational issues are preventing Apple from fully focusing on in-car infotainment as The Information suggests, the company would do well to buy some color-coded sticky notes and get organized. Rival operating system, Google's (NASDAQ:GOOG) Android, is also making in roads to vehicle infotainment, which is an important frontier for smartphone makers at the moment. As the smartphone market in the first world is reaching its saturation point, vehicle infotainment systems can serve as a new source of growth for the makers of smartphone operating systems.
More From Wall St. Cheat Sheet:
Follow Jacqueline on Twitter @Jacqui_WSCS