Apple's iOS Still Dominates This Important Metric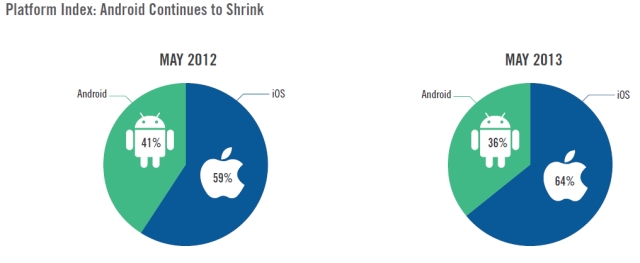 Despite Android's majority share of the mobile operating system market, Apple Inc.'s (NASDAQ:AAPL) iOS operating platform continues to dominate in terms of total mobile ad impressions. According to the latest "State of Mobile Advertising" report from mobile ad firm Velti, Apple's iOS platform grew its share of the market from 59 percent in May 2012 to 64 percent this May. Meanwhile, the market share for mobile devices using Google Inc.'s (NASDAQ:GOOG) Android operating system decreased from 41 percent to 36 percent in the same period.
Apple's latest flagship smartphone, the iPhone 5, significantly boosted Apple's overall market share by 7.9 percent. On the other hand, Samsung 's (SSNLF.PK) new Galaxy S III device only contributed 2.3 percent to Android's overall share of the mobile ad market.
Apple also saw sizeable increases in the number of year-over-year mobile ad impressions for nearly all of its devices. The iPhone, iPad, and iPod touch were all securely in the top three for device rankings. Samsung's Galaxy S devices were a distant fourth place, accounting for 2.7 percent of the total number of ad impressions in 2013.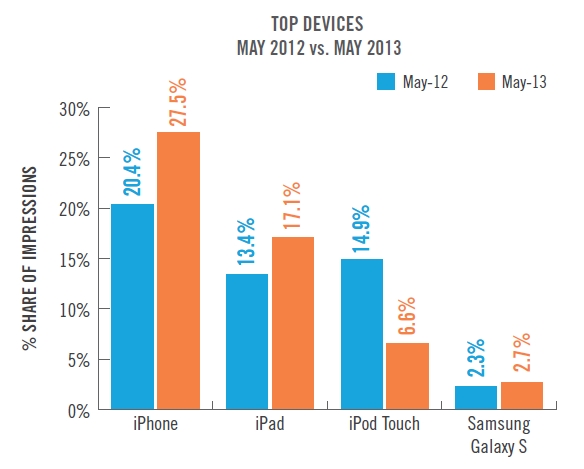 Apple's iPhone increased its market share from 20.4 percent to 27.5 percent, while the iPad jumped from a 13.4 percent share to a 17.1 percent share. The iPod touch lost some market share, decreasing from 14.9 percent in 2012 to 6.6 percent in 2013.
The Velti report also examined the mobile ad impression market by carrier market share. Verizon Communications Inc. (NYSE:VZ) increased its market share from 23 to 34 percent, while AT&T Inc.'s (NYSE:T) share dropped from 53 to 46 percent. The authors of the report speculated that this may have to do with the iPhone's growing popularity with Verizon's customer base.
Although the authors predict that "iOS impression share may start to see a decline until the release of its new iPhone in Fall 2013," the report essentially confirms that Apple has consistently been able to better monetize its smaller user base.  For a variety of reasons, Apple devices attract high-value consumers who are more likely to download or otherwise respond to ads that the typical Android user will not. In other words, when it comes to raking in dollars for advertisers, Apple is king.
Apple's high percentage of ad impressions doesn't just create value for advertisers. These high-value Apple consumers also create a higher return per advertising dollar, which in turn fuels a premium content ecosystem for iOS.
Follow Nathanael on Twitter (@ArnoldEtan_WSCS)
Investing Insights: Will The iWatch Send Apple Higher?