Apple's iPad Air Sees Price Deflation, Telefonica's Big Czech Sale, and 3 More Hot Stocks
Apple Inc. (NASDAQ:AAPL): It didn't take all that long for Wal-Mart (NYSE:WMT) to cut its price on the new iPad Air to $479, $20 below the recommended retail price. The move set off a trend, as Staples, Target, Best Buy, and oddly enough, Apple itself, will match the price cuts in their respective stores (for Apple and Best Buy, physical presence is required — the deal doesn't apply online). The $20 discount applies to the 16GB Wi-Fi version of the tablet; RadioShack will be offering the tablet at the recommended $499 price alongside increased trade-in values for older-generation iPads.
Telefonica S.A. (NYSE:TEF): Telefonica may finalize the sale of its 69 percent stake in its Czech telecom unit to the Dutch financial holding company PPF Group as early as Monday; the deal is valued at about 2.5 billion euros. The sale is representative of Telefonica's drive to shed noncore assets and raise enough capital to pay down its substantial amount of debt.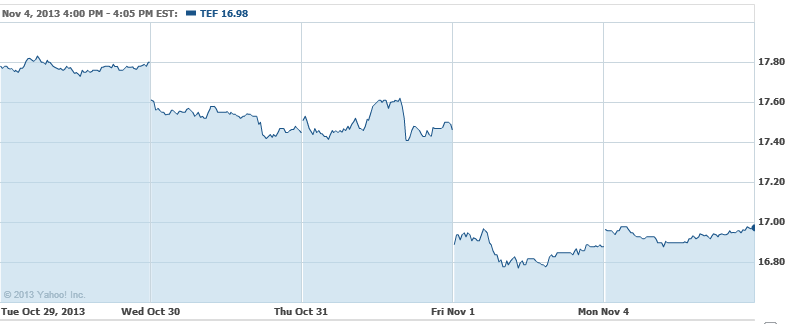 Alcatel-Lucent SA (NYSE:ALU): Shares are trading lower as Alcatel-Lucent announced plans to raise around 955 million euros by selling 454.7 million to 460 million new shares at 2.10 euros each to help improve the company's equity situation. Additionally, Alcatel will float a $750 million high yield bond and initiate a 500 million euro new syndicated revolving credit facility.
HSBC Holdings (NYSE:HBC): shares are up on Monday morning as HSBC reports an underlying pretax profit that grew 10 percent to $5.1 billion, while the reported pretax profit saw gains of 30 percent, to $4.53 billion. The U.K. and Hong Kong markets contributed more than half of HSBC's underlying pretax profit; underlying revenue fell flat at $15.59 billion with overall revenue up 3.5 percent to $15.08 billion. Overall, "we see reasons for optimism with some evidence of a broadening recovery," the bank said.

Honda Motor Co. (NYSE:HMC): Over the weekend, Honda reported that it would be recalling nearly 350,000 units of its Odyssey minivan due to an issue that could cause the car to brake unexpectedly without illuminating the rear brake lights. However, supplier constraints, presumably, have put a hold on the repairs until March, as the company will not have the necessary pieces to make the fixes for the vehicles until then. No accidents or injuries have been reported as a result of the issue, and Honda will be issuing a letter to owners to notify them of the issue and how best to recalibrate the afflicted system to minimize the chances of an incident.
Don't Miss: Here's Why India May Soon Become Apple's Next Big Market.