Apple's iPad Mini Takes the Cake as the Most Responsive Tablet
When it comes to tablet devices, Agawi Touchmark has demonstrated that those with the most expensive price tags don't always have the fastest speeds. According to The Guardian, the company tested Amazon's (NASDAQ:AMZN) Kindle Fire HD, Apple's (NASDAQ:AAPL) iPad 4 and iPad mini, Microsoft's (NASDAQ:MSFT) Surface RT, Samsung's Galaxy Tab 3.8.0, and all of Google's Android tablets in order to determine which tablet wins for the fastest response speed. The tests reported surprising results.
Despite selling for a lower price, Agawi found that the Kindle Fire HD has a more responsive touchscreen than the new Nexus 7 and Galaxy Tab 3.8.0. Microsoft's Surface RT tablet also comes in fourth place behind Android's Nvidia Shield, and the winner is Apple's iPad mini, just in front of the fourth-generation iPad.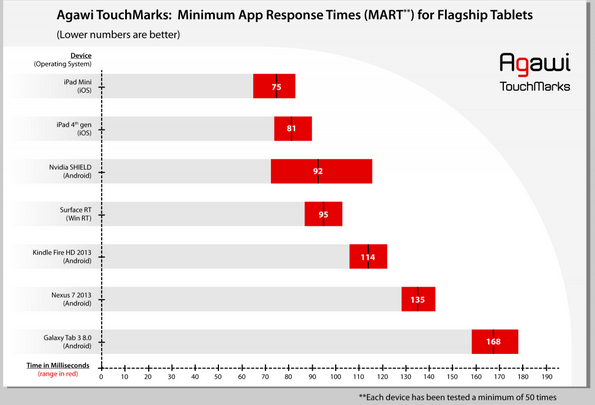 Agawi explained its methodology Tuesday in a blog post. "We place the light sensor and touch at the center of the screen to account for the device's 60Hz refresh rate, the devices are in Airplane mode with full brightness and they have had all background apps closed to make the test as fair as possible. For this report, we will specifically be measuring the Minimum App Response Time by using OpenGL/DirectX-based optimized apps with minimal logic to quickly flash the screen white in response to a touch."
Though touchscreen response speed isn't of paramount importance to all tech consumers, the reports are still surprising considering the price discrepancy between the top placers on Agawi's list. The company's co-founder and chief executive, Rohan Relan, maintained that the effect is only the most evident when users are playing games or using apps that require a rapid response, but still those who pay the high price tag typically expect the fastest device possible.
Agawi measured each device's "minimum app response time" or "the time between touching the screen and a response being measured using a laboratory rig," and found that the iPad mini posted the most impressive 75-millisecond figure while the Surface RT's was 95 ms. The Kindle Fire HD's score came to 114 ms, compared to the Nexus 7′s 135 ms and the Galaxy Tab's 168 ms.
Relan explained to The Guardian, "Basically we found that Apple's iOS performed nearly two times better than Android. The findings were surprising to me because Samsung make the hardware, but it was the worst by a large margin in our tests." Agwai also looked at screen responsiveness for the iPhone compared to Android phones and Windows Phone devices back in September, and Apple again came out the victor.
Don't Miss: What Is Apple Bringing Fans on October 22?