Apple's iPad Sales Go Live, The Container Store Soars on IPO, and 3 More Hot Stocks
Apple Inc. (NASDAQ:AAPL): The iPad Air, Apple's fifth-generation tablet, has hit stores in Asia (Europe and North America will follow shortly), while the iPad mini with Retina display is expected to launch on November 21. Not surprisingly, people were queued outside of stores in Tokyo and Sydney; however, the sales launch doesn't seem to have generated the media interest that previous Apple devices attracted, Seeking Alpha notes.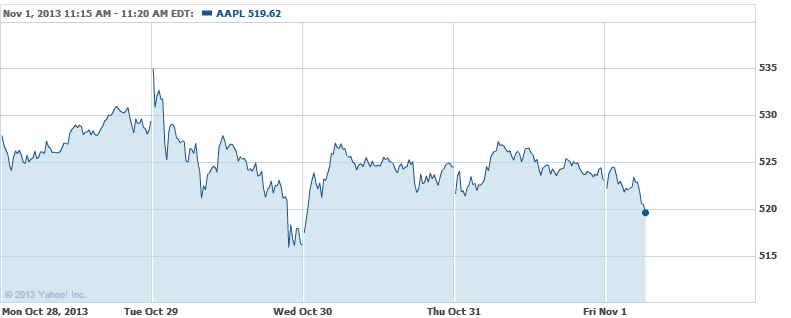 The Container Store (NYSE:TCS): Shares are now resting a shade over $34 on the launch of The Container Store's IPO after starting the day at $18, nearly doubling in its first day of trading. The price of $18 was set on Thursday and was already at the high end of the company's anticipated offering; the retailer has become a magnet of investor interest, summed up by BB&T Capital's Anthony Chukumba: "There's no other national retailer who is doing what these guys are doing."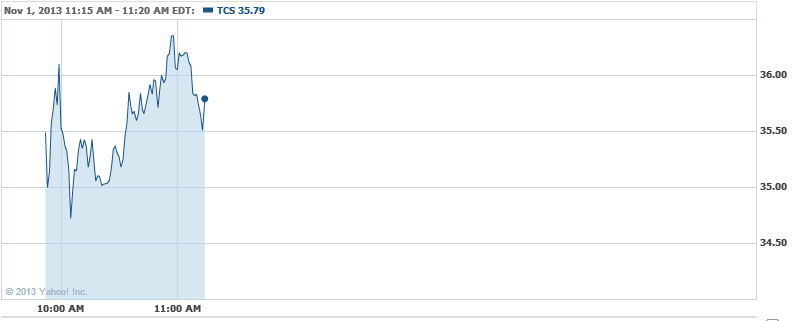 Barrick Gold Corp. (NYSE:ABX): It was a busy earnings report that Barrick unleashed on Thursday, which saw earnings per share of 58 cents beat by 7 cents and revenue of $2.99 billion beat by $0.03 billion. However, financials aside, the big news was that Barrick will be suspending construction at its Pascua Lama mine, at least for the time being, in efforts to conserve capital and reduce its capital spending guidance for 2014 by $1 billion. The news also sheds some doubt on the future of the $8.5 billion project, which has already seen its fair share of delays and holdups.

American International Group (NYSE:AIG): AIG reported EPS of 96 cents after the bell on Thursday, which beat by 2 cents, though revenue of $8.43 billion missed by $200 million. Property and casualty income reached $1.04 billion, a 33 percent gain over last year, as underwriting losses fell 69 percent to just $135 million; the resulting combined ratio improves to 98 from 100.1. Premiums written fell 1 percent as reported but gained 3 percent after forex impacts. Life & Retirement operating income shot up 38 percent while Mortgage Guaranty operating income of $43 million weighed in over the $3 million seen a year ago.

Royal Bank of Scotland Group (NYSE:RBS): Shares of RBS are slumping as the bank reported a net loss attributable to shareholders that fell to 828 million pounds from 1.405 billion pounds a year earlier; total income of 4.89 billion pounds fell short of the 5.56 billion seen a year prior. RBS has agreed to a government proposal and will create an internal "bad bank" to hold 38 billion pounds in risky and potentially toxic assets, including bad loans from RBS's Ulster Bank unit. "We now have a shared vision for the bank that includes the board, our principal prudential regulator and the U.K. Government," said CEO Ross McEwan.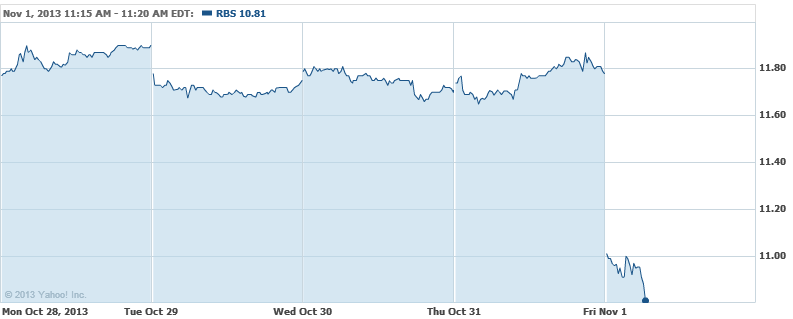 Don't Miss: Japanese Carrier Sees Quarterly Revenue Spike Thanks to Apple's iPhone.