Apple's iPhone 5S and 5C Hit Stores, GlaxoSmithKline Drug Falls Short, and 3 More Hot Stocks
Apple Inc. (NASDAQ:AAPL): All eyes are on Apple as the iPhone 5S and iPhone 5C hit stores Friday in 10 countries, including Australia, Japan, the U.K., the U.S., and China. Shares of Apple have recovered some of the losses incurred since the phone's announcement on September 10. The company's U.S. online store is now pointing to a wait of seven to 10 business days for shipping for the space grey and silver 5S models; gold models won't ship until some point in October.
GlaxoSmithKline (NYSE:GSK): GlaxoSmithKline and Prosensa's (NASDAQ:RNA) Drisapersen treatment for Duchenne Muscular Dystrophy has failed to reach its primary goal in a Phase III trial, meant to enable a statistically significant improvement in the Six-Minute Walking Distance test against a placebo. Glaxo's shares are unharmed; Prosensa is dealing with a near-70 percent crater. Separately, Glaxo's Relvar treatment — made in tandem with Theravance (NASDAQ:THRX) — for treating asthma but not chronic obstructive pulmonary disease has been approved in Japan.

Home Depot Inc. (NYSE:HD): Home Depot announced that it will be moving the medical coverage for part-time workers to insurance exchanges, affecting roughly 20,000 employees — about 5 percent of the workforce — on the company's payroll. The company will continue to offer part-time workers dental, vision, critical illness, and disability coverage, The Wall Street Journal reports.
BHP Billiton (NYSE:XOM): BHP and its minority partner, Apache (NYSE:APA), say they have commenced work on their $1.5 billion Macedon natural gas project in Western Australia, which began operating last month and has production capacity of 200 terajoules per day.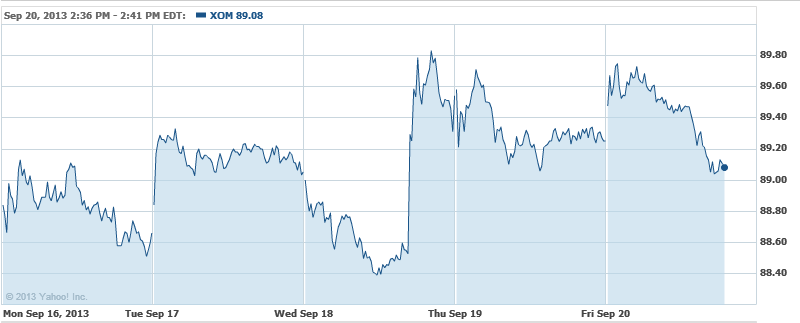 Google Inc. (NASDAQ:GOOG): Google is making the mobile productivity suite Quickoffice free to all iOS and Android users, a privilege that, until now, was only free to those subscribing to Google Apps for Business, which costs $50 to $120 per user per year. Chances are that the move comes as a response to Apple's choice to make the iWork suite free to buyers of new iOS hardware.

Don't Miss: Analyst: Multiple Tailwinds for Apple's iPhone Launch.