Apple's iPhone 5S Has This Unwanted Windows Feature
It appears that Apple's (NASDAQ:AAPL) iPhone 5S includes a surprising and unwanted Windows-like feature. Some of Apple's iPhone 5S users have been encountering the dreaded "Blue Screen of Death" error when trying to access multiple iWork apps at the same time, reports The Verge.
The "Blue Screen of Death" error was most commonly found on older Windows-based PCs. As demonstrated in the video below, it appears that the error is triggered by trying to use more than one iWork app at the same time.
According to the user comments on Apple's support forums, it appears that the problem only occurs on Apple's iPhone 5S. While some users have reported that disabling iCloud synching lessens the chances of an unwanted blue screen reboot, that solution does not appear to work for everyone.
"I tried the 'turn off pages access to iCloud' but that did not solve the issue, and I am still getting the blue screen of death with Pages on the iPhone.  Pages runs fine on my iPad," noted Apple support forums user "dlykken."
It is not yet known if this is an iOS 7 bug or if it is a problem related to the new hardware found in the iPhone 5S. Apple recently released the iOS 7.0.2 software update to fix a lockscreen security issue with the new iPhone. However, other iPhone 5S issues may be due to the new 64-bit A7 processor found in the device rather than a problem stemming from iOS 7. According to mobile application performance management company Crittercism, apps are crashing on the iPhone 5S approximately twice as often as they are on the iPhone 5C.
According to The Verge, Apple has yet to respond to the "Blue Screen of Death" issue. However, Apple typically provides fixes for software glitches as soon as they are discovered and reported. Here's how Apple closed out the trading week on Friday.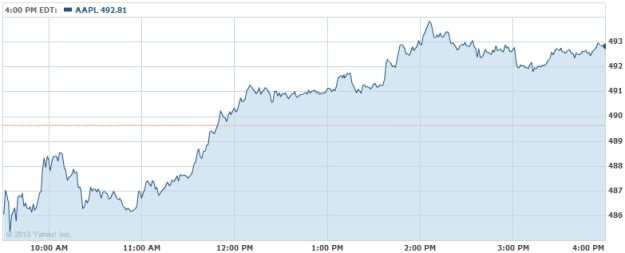 Follow Nathanael on Twitter (@ArnoldEtan_WSCS)
Don't Miss: Analyst: Large iPhone, iWatch, and More in 2014.