Apple's iPhone Crushes Smartphone Competition in Japan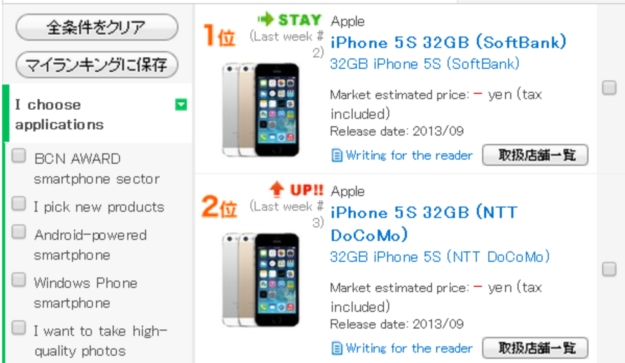 Various versions of Apple's (NASDAQ:AAPL) iPhone 5S and iPhone 5C have secured nine of the top ten spots on BCN's list of Japan's best-selling smartphones, reports Apple Insider. BCN, otherwise known as Business Computer News, compiles a weekly list of the top-selling smartphones in Japan among the country's three major carriers: NTT DoCoMo (NYSE:DCM), SoftBank and KDDI. KDDI markets its mobile services under the "au by KDDI" brand name.
Apple's 32GB-capacity iPhone 5S was the top-selling device at all three carriers and took the top three spots in the overall smartphone sales rankings. SoftBank, which has been offering the iPhone in Japan since 2008, was the overall No. 1 seller of Apple's iPhone 5S. Recently signed Apple carrier NTT DoCoMo took second place, while KDDI took third place.
Longtime Apple carrier SoftBank accounted for the most spots on BCN's list with four separate rankings. SoftBank's versions of the 16GB iPhone 5S and 16GB iPhone 5C took the fourth and fifth place rankings, respectively. The SoftBank version of the 64GB capacity iPhone 5S also claimed a spot as the seventh best-selling smartphone.
KDDI, which has had a distribution deal with Apple since 2011, secured a total of three spots in BCN's top ten list. Besides taking the second place ranking with its version of the 32GB iPhone 5S, KDDI also took the sixth and eighth place rankings with the 16GB iPhone 5C and the 16GB iPhone 5S, respectively.
Not surprisingly, NTT DoCoMo had the fewest spots in BCN's top ten list. Although NTT DoCoMo is Japan's largest carrier, with over 60 million subscribers, it has only had a distribution deal with Apple since September. Besides holding the second place ranking on BCN's top ten list with the 32GB iPhone 5S, NTT DoCoMo also took the ninth place spot with its version of the 16GB iPhone 5S. In an earnings call last month, NTT DoCoMo president and CEO Kaoru Kato cited the initial iPhone supply shortage and the company's unfamiliarity with Apple's products as the two major reasons for the carrier's limited iPhone sales.
The final spot on BCN's top ten list was filled by a low-end device made by China-based smartphone maker ZTE. Korea-based smartphone maker Samsung (SSNLF.PK) was noticeably absent from BCN's top ten list. As previously noted by the Wall Street Journal, Samsung is a relatively minor player in Japan, where some consumers have a bias against Korean companies.
Tim Cook noted in September that Apple's iPhone was already the top-selling smartphone in Japan even before the California-based company teamed up with NTT DOCoMo. However, the addition of NTT DoCoMo has sparked an iPhone discount battle between Japan's major carriers and helped to further fuel Apple's astonishing growth. According to Cowen & Co managing director Timothy Arcuri via the Wall Street Journal, Apple's iPhone will likely account for half of Japan's total smartphone market in 2014.
Here's how Apple closed out Friday's shortened trading session.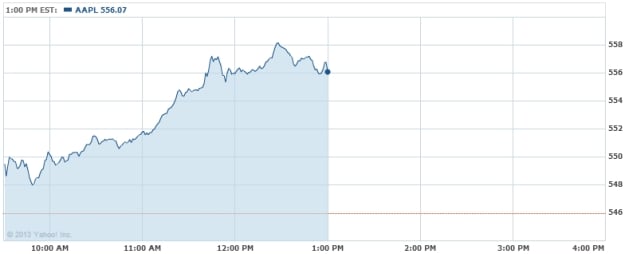 Follow Nathanael on Twitter (@ArnoldEtan_WSCS)
Don't Miss: Apple Acquires 3-D Tech: Will It Make It Into the iPhone 6?