Apple's iPhone Featured in Preorder Offer by China Mobile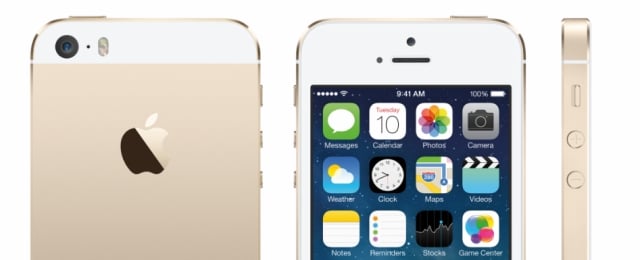 A recently posted advertisement on China Mobile's (NYSE:CHL) website appears to confirm that the carrier has finally signed its long-rumored distribution deal with Apple (NASDAQ:AAPL). According to the Wall Street Journal, China Mobile's Shanghai website has posted an announcement that reads "4G is here," alongside a promotional offer that that invites customers to preorder the iPhone 5S and other 4G-compatible smartphones.
Based on information from an unnamed insider source, the Wall Street Journal reported last week that Apple and China Mobile had finalized an iPhone distribution deal. However, a China Mobile spokesperson later cast doubt on the report when they denied that a deal had been reached. "We are still negotiating with Apple, but for now we have nothing new to announce," said China Mobile spokesperson Rainie Lei via Reuters on December 5. It should also be noted that Apple has yet to officially announce a partnership with China Mobile.
According to the Wall Street Journal, their attempt to preorder an iPhone 5S through China Mobile's website failed to go through. However, a China Mobile customer service representative later informed them that the iPhone 5S preorder option won't be activated until Thursday. "Customers can begin to preorder for our new 4G services from Dec. 12 through the company's website and some dedicated branches in Shanghai," said the China Mobile customer service representative via the Wall Street Journal. "But we will only start providing commercial 4G services after Dec. 18."
As previously reported by the Wall Street Journal, China Mobile will unveil its new 4G services at a global partner conference in Guangzhou on December 18, where it is also expected to make an official announcement about its partnership with Apple. Last week, China's Ministry of Industry and Information Technology issued a 4G operating license to China Mobile and several other carriers.
China Mobile is the world's largest carrier with over 750 million subscribers and a deal with Apple will likely significantly boost the California-based company's market share in China. According to Barron's, Evercore analyst Rob Cihra recently predicted that a deal with China Mobile could give Apple an additional 5 million to 10 million iPhone unit sales in calendar year 2014. However, Piper Jaffray analyst Gene Munster estimated that the deal could add as many as 17 million iPhone unit sales next year, reports Street Insider.
Apple already has distribution deals with China's two other major carriers: China Unicom (NYSE:CHU) and China Telecom (NYSE:CHA). However, until recently, those carriers have only been able to offer Apple's iPhones on the country's slower 3G network. According to the Wall Street Journal, China Mobile will initially offer its 4G services in several major cities, including Beijing, Shanghai, and Guangzhou before it expands the services to other cities.
Here's how Apple has traded over the past five sessions.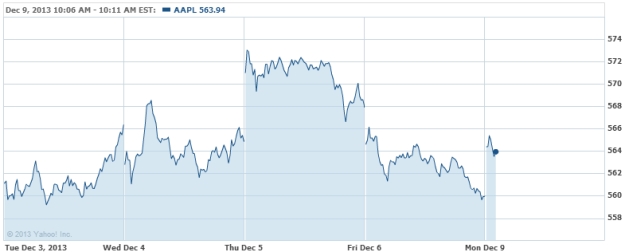 Follow Nathanael on Twitter (@ArnoldEtan_WSCS)
Don't Miss: Here's Apple's Latest Mac Pro Debut Sign.