Apple's iPhone Isn't the Only Thing Breaking Records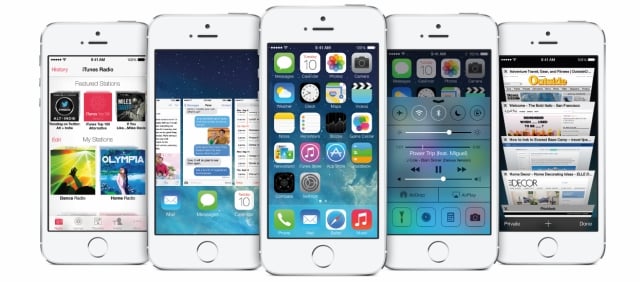 While most of the media's attention has been focused on Apple's (NASDAQ:AAPL) record-breaking iPhone sales, the company has also been shattering records relating to its latest mobile operating system. According to online ad network company Chitika, Apple's new iOS 7 is being adopted by users at a record-breaking pace.
Chitika's data shows that 51.8 percent of iOS-based Web traffic in North America was generated by devices running iOS 7 by the afternoon of September 25. This surpasses the 47 percent adoption level reached by iOS 6 over the same time period after its release.
The adoption rate difference between iOS 7 and iOS 6 was even more pronounced during the first 48 hours. According to Chitika, 31.7 percent of iOS-based Web traffic in the U.S. and Canada was generated by devices running iOS 7 in the first 48 hours after its release. Apple's iOS 6 generated only 24.7 percent of traffic over the same time period after its release last year.
Apple's latest mobile operating system iteration was released on Wednesday, September 18. Before iOS 7 was publicly released, it was installed on less than 3 percent of iOS-based devices. On September 23, Apple noted that, "more than 200 million iOS devices are now running the completely redesigned iOS 7, making it the fastest software upgrade in history."
The rapid adoption of iOS 7 among Apple users contrasts with the slow rate of adoption for operating system upgrades among Android users. According to Bloomberg Businessweek, only 45 percent of Android users have upgraded to "Jelly Bean," the latest version of Google's (NASDAQ:GOOG) mobile operating system.
On the other hand, over 93 percent of Apple's mobile devices were running the latest version of iOS the day before iOS 7 was released, according to data from mobile analytics platform Mixpanel. The uniformity of Apple's mobile operating system may be one reason why its App Store has consistently been able to generate more app revenue than Google Play. Here's how Apple traded over the past five trading sessions.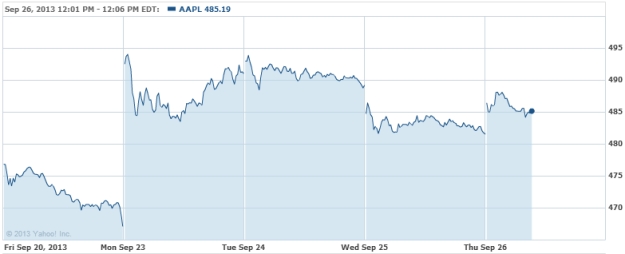 Follow Nathanael on Twitter (@ArnoldEtan_WSCS)
Don't Miss: Why Is Carl Icahn Meeting With Apple CEO Tim Cook?