Apple's iPhone Tops Yahoo's List of Most Searched Tech Items

Apple's (NASDAQ:AAPL) iPhone has once again topped internet search engine Yahoo's (NASDAQ:YHOO) annual list of the most searched tech items. According to Yahoo via the U.K.'s Daily Star, "Apple iPhone" was the most searched tech item in 2013. Although Yahoo's list of tech item searches is often simply a reflection of trending news stories, it can also provide hints about consumers' shopping intentions.
Although the list didn't specify how many times each item was searched, Apple's iPhone was followed by Amazon's (NASDAQ:AMZN) Kindle, while Samsung's (SSNLF.PK) Galaxy took third place. However, Apple took three of the top ten spots on Yahoo's most-searched-for tech items of 2013, more than any other tech company.
Apple's iPad and iPod took the fourth and eighth places on the list, respectively. Sony (NYSE:SNE) secured two spots on Yahoo's search list with the fifth-ranked PlayStation 4 and the tenth-ranked Xperia. Sony uses the Xperia brand name for both its tablets and smartphones so it was unclear which item was actually being searched.
Microsoft's (NASDAQ:MSFT) Xbox One followed the PS4 in sixth place on the list. BlackBerry (NASDAQ:BBRY), the struggling Canada-based smartphone maker that almost sold itself this year, took seventh place. It is likely that the news stories about BlackBerry's dramatic decline this year helped boost its ranking on Yahoo's list, since the company's declining smartphone sales would suggest that most consumers were not interested in shopping for a BlackBerry smartphone.
Apple's iPod took eighth place, right above the ninth-ranked Nokia (NYSE:NOK) Lumia. Like Sony's Xperia brand, Nokia uses the Lumia name for both its smartphones and tablets. Similar to BlackBerry, Nokia's overall ranking on Yahoo's list may have been bolstered by the news stories about its $7.2 billion acquisition by Microsoft.
The high ranking of several Apple products on Yahoo's most-searched-for tech items list may be yet another sign that Apple's latest products will have strong sales in the fourth quarter. Apple already revealed that it sold a record 9 million iPhone 5S and iPhone 5C models during the launch weekend in September. More recently, Apple launched the iPad mini with Retina display on November 12 and the iPad Air on November 1. Both models are expected to sell well during the December quarter based on growing consumer demand for tablets.
Here's how Apple closed out Friday's shortened trading session.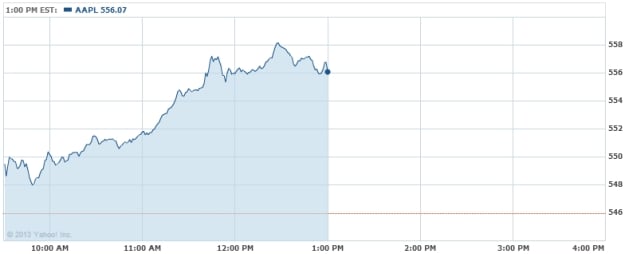 Follow Nathanael on Twitter (@ArnoldEtan_WSCS)
Don't Miss: Black Friday Shoppers Snatch Up Apple's iPads.