Apple's iTunes Is Unstoppable
The good news regarding Apple's (NASDAQ:AAPL) iTunes accounts keeps coming in. Earlier this week, Apple CEO Tim Cook revealed that the number of iTunes accounts has hit 575 million.
Naturally, Horace Dediu at Asymco was quick to demonstrate iTunes phenomenal growth with an informative graph. Using the eight iTunes milestones that have been announced since 2009, Dediu plotted iTunes insanely steep growth rate over the past four years.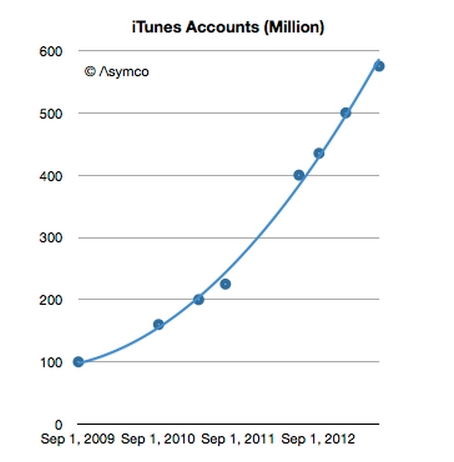 Dediu notes that Apple's iTunes accounts numbered about 100 million in 2009, which means that since then, the number of accounts has increased by a factor of six. This gives Apple's iTunes accounts an astonishing growth rate of 500,000 per day. Apple Insider notes that if this rate of growth continues, Apple will have added 100 million user accounts by the end of the year.
What does this number mean for Apple's bottom line? According to an analysis recently done by Morgan Stanley's Katy Huberty, each user account generates the company an average of $329. This surpasses second-ranked Amazon's (NASDAQ:AMZN) average revenue of $305 per user account and is significantly higher than the $125 that third-ranked eBay (NASDAQ:EBAY) derives from each of its user accounts. Huberty also notes that Apple's account base of users is second in size only to Facebook's (NASDAQ:FB) user base of approximately 1 billion.
Apple's high rate of revenue per user is reflected in its dominance of the digital music market. An NPD Group study cited by Apple Insider notes that iTunes accounted for 63 percent of the paid music downloads in the last quarter of 2012. Similarly, iTunes accounted for 67 percent of TV downloads, and 65 percent of movie downloads.
Perhaps even more exciting than this iTunes milestone is the potential that Apple has to derive even more revenues from this large user base. Apple could easily drive its future revenue growth merely by expanding the number of services that it provides through iTunes. Here's how Apple has traded over the past week.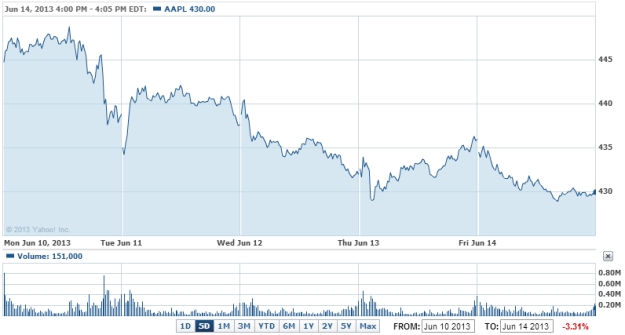 Follow Nathanael on Twitter (@ArnoldEtan_WSCS)