Apple's Jony Ive on 'Caring' Design Philosophy
Renowned Apple (NASDAQ:AAPL) product designer Jony Ive and industrial designer Marc Newson discussed their "kinship of ideas" and their shared love of well-designed objects in a new interview with journalist Charlie Rose. Ive and Newson have recently collaborated on an auction that will benefit (RED), a non-profit founded by Bono and Bobby Shriver that funds the global fight against AIDS. The auction will be hosted by Sotheby's in New York on November 23.
Rose noted that Ive is "almost as important to Apple's success as the legendary CEO Steve Jobs." Ive is behind the design of some of Apple's most successful products, including the iMac, iPod, iPhone, and iPad. Most recently, Ive oversaw the radical redesign of iOS 7, Apple's latest version of its mobile operating system.
As seen in the video below, Ive talked at length about the "fanaticism" behind his design philosophy. "I think part of the human condition is that we sense care. Sometimes it's easier to sense carelessness," noted Ive. "We're surrounded — our manufactured environment — so much of it testifies to a complete lack of care."
However, Ive explained that he strives to do the opposite in his design work. "That sort of commitment and passion can become a fanaticism of just really caring to get something right — whether you're going to see it or not," Ive told Rose. Ive's design philosophy reflects Apple's overall approach to the smartphone business. Earlier this year, Tim Cook told Bloomberg Businessweek that Apple is "not in the junk business."
However, Ive also noted that his design philosophy is always grounded in the ultimate purpose of an object. "One of the things that we [Ive and Newson] generally don't like is when you have that sense of the designer wagging their tail in your face," said Ive. "Stuff that's just arbitrary irritates us."
According to (RED), "Jony and Marc's" auction will include over 40 objects that have been designed, selected, or customized by Ive and Newson, including several Apple products. One of the Apple auction items is a red-colored customized edition of the Cupertino-based company's redesigned Mac Pro professional desktop computer. The one-of-a-kind Mac Pro has an auction estimate of $40,000 to $60,000. The auction will also feature a pair of solid rose-gold earpods that are expected to sell for $20,000 to $25,000.
Here's how Apple closed on Friday.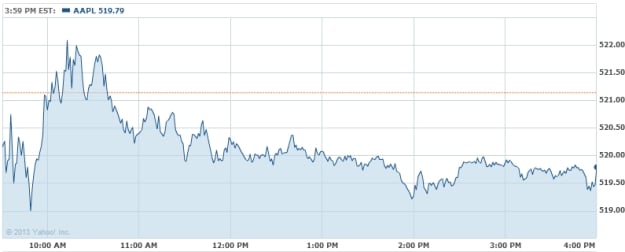 Follow Nathanael on Twitter (@ArnoldEtan_WSCS)
Don't Miss: Intel: Apple Inspired Haswell Chip Improvements.