Apple's Latest Patent Ruling, Halliburton's Acquisition Approach, and 3 More Hot Stocks
Apple Inc. (NASDAQ:AAPL): A California jury is due to convene and determine the outcome of Apple's $382 million patent lawsuit against Samsung (SSNLF.PK) on Wednesday, the latest spat in the ongoing war between the two tech giants. Samsung maintains that it only owes Apple $52 million for using features on earlier-generation products, such as the pinch-to-zoom function. This particular case will decide how much of the previous $410.5 million settlemt Samsung will "payback" to Apple.
Halliburton Company (NYSE:HAL): Halliburton CFO Mark McCollum said that while Halliburton intends to be an active dealmaker when the unconventional oil and gas sector consolidates, it will remain selective about the potential opportunities, he said at an energy conference in Houston. McCollum added that the company purchases about 10 to 15 companies per year, and will keep up the level of spending, but continue to be discerning on the companies under consideration.

Microsoft Corp. (NASDAQ:MSFT): Microsoft has declared a $0.28 per share quarterly dividend, in line with its prior dividend payment. It has a forward yield of 3.05 percent, and is payable on March 13th for shareholders of record on February 20. It has an ex-dividend date of February 18th.
Dick's Sporting Goods (NYSE:DKS): Shares of Dick's Sporting Goods are trading down after BMO Capital brings its rating on the stock to Perform from Outperform, with a price target of $57. BMO analyst Wayne Hood voiced concerns that the stock has outpaced the S&P 500 more than two-fold since March, and believes that, "More aggressive promotions are needed to drive sales growth in certain segments (golf, fitness/cardio) while the company is in a position of having to maintain margins."
Whirlpool Corp. (NYSE:WHR): During the Morgan Stanley Global Consumer And Retail Conference, Whirlpool took the chance to reaffirm its EPS guidance of $9.90 to $10.10, with a midpoint below the consensus analyst mark of $10.09; the estimate — which errs on the conservative side — is consistent with recent reports of pricing pressure in appliances, though Whirlpool sees revenue growth of 5 percent to 7 percent down the road on a yearly basis, since it thinks that the U.S. housing market is only in the "early stages" of a prolonged recovery.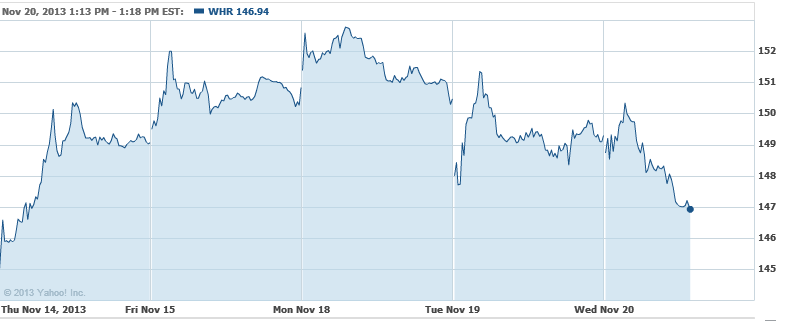 Don't Miss: Apple TV Gets Content from PBS and Yahoo.