Apple's Legal Twist, Amazon's New Phones, and 3 More Hot Stocks
Apple Inc. (NASDAQ:AAPL): Rival smartphone maker Samsung (SSNLF.PK) could be facing sanctions over allegations that it violated a protective order regarding confidential information about patent license agreements with other companies. Last year, Apple provided confidential information about its various license agreements with other companies to Samsung's attorneys in a move that was covered by a protective order designed to keep Samsung from gaining an unfair competitive advantage. However, this information could have been shared with a slew of other firms — Nokia and Ericsson among them.

Amazon.com (NASDAQ:AMZN): Amazon is reportedly working on two separate smartphones, the flagship "Smith" — which features a 3-D, eye-tracking interface — and a less expensive, presumably more basic model. Smith will also boast "an image recognition feature that lets users take a shot of any real-world object and match it to an Amazon product for purchase," TechCrunch reports. The more affordable unit, "Project B," is said to be a "cheap" phone with basic software that is similar to that found on the Kindle Fire tablets — now called FireOS, according to TechCrunch.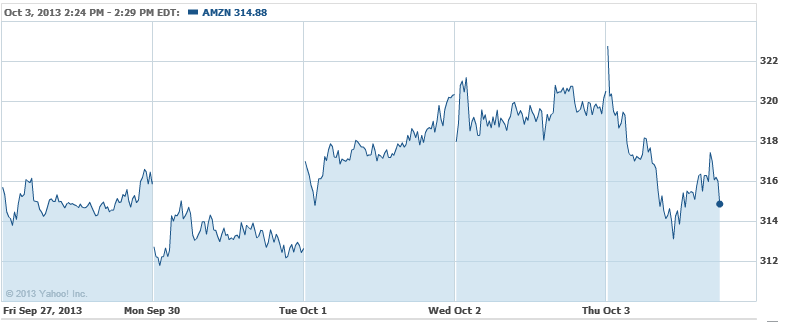 United Technologies Corp. (NYSE:UTX): United Technologies stated that the government shutdown means that DCMA inspectors will not be available for audits and approvals of military products, and, therefore, "certain defense manufacturing work must be halted, which will result in employee furloughs." About 2,000 Sikorsky workers will be put on furlough starting Monday, and United will be forced to furlough employees in its Pratt & Whitney and Aerospace Systems businesses as the shutdown slogs on.

Walt Disney Co. (NYSE:DIS): Disney's magic may soon come to the aid of the beleaguered retailer J.C. Penney (NYSE:JCP), which will launch of a Disney Shop inside 565 J.C. Penney stores on Friday. "This enchanting retail space offers toys, collectibles and children's apparel designed especially for J.C. Penney showcasing some of Disney's most beloved characters, including those from Monsters University, Toy Story, Tangled, and Disney Junior shows," the retailer says.

Don't Miss: Here's Why Apple's iPhone 5S Delay Isn't All Bad.