Apple's Maps App May Soon Get New Interactive Features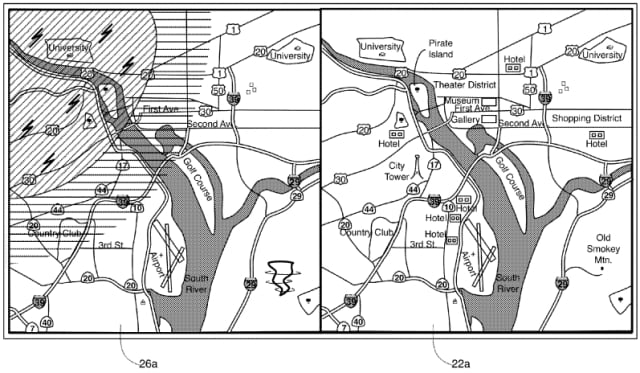 A recently published Apple (NASDAQ:AAPL) patent uncovered by Apple Insider outlines additional interactive features that may be incorporated into the company's native mapping application. In a patent titled "Interactive Map," Apple expands on many of the features that are currently available in Apple Maps.
One feature is the ability to display a map with a "plurality of different layers of information, wherein each layer contains a respective type of information." As noted by Apple in the patent background, "While the amount of information that can be stored or accessed within an electronic computing device enables a user to obtain different maps, depending on the user's interest at any given time, it is necessary for the user to switch among different applications in order to view various types of information that may be of interest."
By allowing users to combine multiple "layers" of different types of mapping information, they can customize their electronic maps based on multiple criteria. For example, someone could superimpose a weather map over a map that provides the nearest restaurant or shopping mall locations. This would allow that person to keep track of an approaching storm while simultaneously looking for a place where to take refuge until the storm passes.
As noted by Apple Insider, this is similar to the "Hybrid" view that is currently available in Apple Maps. However, Apple expanded this feature in the "Interactive Map" patent by linking keyword searches to the specific customized map view that is being used. For example, if a camper is using a customized "outdoor recreation view," a search for "food" would return results for nearby stores that sell food for campers. On the other hand, the same search in "tourist view" would return results for nearby restaurants.
The information provided in the customized map views would also be dynamically updated with the most recent information, according to the patent. For example, clicking on a "city dot" would provide the user with the most recent "demographics, hotels, flight schedules" information. Apple also noted that the customized map views could be saved and shared with other users.
The company also described a touch-based user interface for creating mapping routes instead of the current "dropped pins" method. As stated in the patent summary, "Touching two points on the map, such as two different city dots, can result in the calculation of the distance between the two points and/or calculation of one or more routes between the two locations, along with information that may assist the user in deciding which one of the available routes to select. "
Apple's "Interactive Map" patent is just the latest evidence that the company is building on its Apple Maps application. Earlier this year, Apple purchased location data company Locationary, mass transit navigation app company HopStop, and transit system app company Embark to further boost its mapping app capabilities.
Follow Nathanael on Twitter @ArnoldEtan_WSCS
More from Wall St. Cheat Sheet: