Apple's Name Registration Denied in Brazil and 4 Hot Stocks Making Waves
Affymax, Inc. (NASDAQ:AFFY): Current Price: $15.35
This morning, Affymax revealed that on February 13, Fresenius Medical Care North America stated that it has accumulated experience with Omontys Injection in over 56,600 administrations in over 18,000 patients in its dialysis facilities. It states that it will halt expansion of the Omontys pilot that started during July 2012. FMCNA will likely analyze the full set of efficacy and safety profile information and that the current scale of their experience with use of Omontys is adequate to complete this analysis, according to Affymax.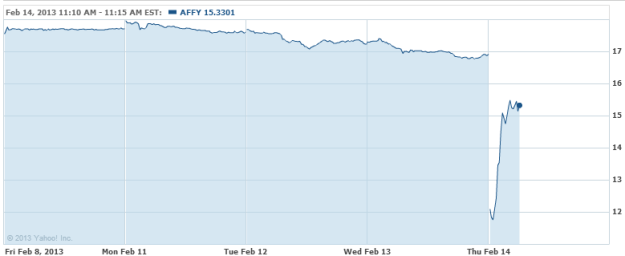 Syntel, Inc. (NASDAQ:SYNT): Current Price: $58.23
The company sees its FY13 revenue at $780 million to $810 million, consensus $807.56 million.

Alpha Natural Resources, Inc. (NYSE:ANR): Current Price: $9.80
Alpha Natural recorded $228 million worth of impairment and restructuring charges during Q4 of 2012, mainly non-cash. These charges include $188 million arising from Alpha's annual goodwill impairment testing, reflecting projected coal market conditions and reduced expected future production and shipments mostly for thermal coal, as well as a $40 million impact of charges and asset impairments resulting from recent restructuring initiatives.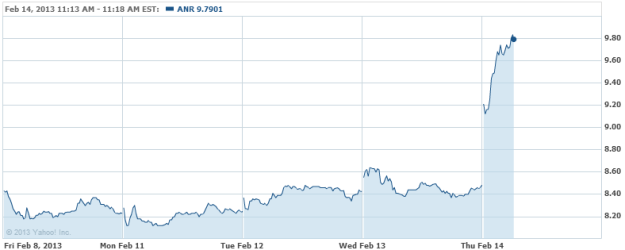 Apple Inc. (NASDAQ:AAPL):Current Price: $467.64
Brazil's National Institute of Industrial Property has rejected Apple's request to register the iPhone name in the country, which could cause a potentially costly legal dispute in one of the world's fastest-growing smartphone markets, according to the Wall Street Journal. Apple's trademark application was denied because the rights to the name is already owned by electronics maker IGB Eletronica SA, or Gradiente.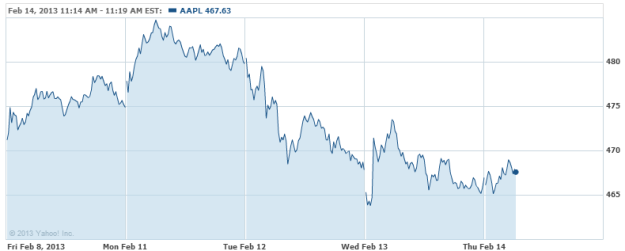 Bank of America (NYSE:BAC): Current Price: $12.18
Bank of America Merrill Lynch was named the Best Overall Bank for Cash Management in North America by Global Finance magazine for the third year in a row.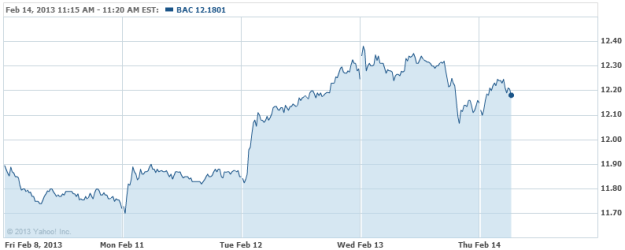 Don't Miss: Apple: We Want to Empower Investors.