Apple's New App Store Search Algorithm Sparks Ranking Shifts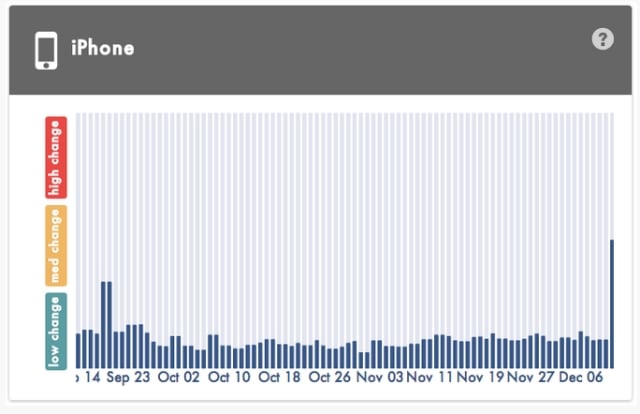 Apple (NASDAQ:AAPL) appears to have adjusted its App Store search algorithm for at least the second time this year. As first reported by App Store optimization and app marketing company MobileDevHQ via TechCrunch, the changes have had a significant impact on many apps' rankings in the App Store. As seen in MobileDevHQ's graphic above, the algorithm changes sparked more iPhone app ranking shifts than the launch of iOS 7 in September.
MobileDevHQ uses an algorithm monitoring tool known as Sonar that is able to detect major shifts in Apple's App Store rankings. Sonar operates by sampling approximately 30,000 search keywords every day and recording the app rankings that are returned. On Friday, Sonar detected an unusual level of app ranking fluctuations in the App Store.
For example, iPhone apps moved an average of 41.5 positions — about eight times more than normal, according to MobileDevHQ. Around 40 percent of all the apps that were related to the keywords that Sonar checked moved at least 20 positions. As noted by MobileDevHQ, typically only 3 percent of App Store apps experience daily ranking swings that significant. The changes for iPad apps were slightly less drastic with an average ranking shift of 20.8 positions, or about four times the normal rate of change.

As seen in MobileDevHQ's search ranking graphic above, some apps had more significant swings under keyword searches than others. For example, under the search word "banking," the Wells Fargo Mobile app climbed 144 positions in one day, from the No. 275 spot to the No. 131 spot. On the other hand, the Bank of America app only moved up four positions, from the No. 12 spot to the No. 8 spot.
Although it is clear that Apple has recently tweaked its search algorithm, it is unknown what adjustments could have precipitated such dramatic ranking changes. However, this is not the first time that Apple has changed the way that it determines rankings for the App Store.
In August, app marketing company Fiksu determined that Apple had implemented changes that allowed a user's rating to have a greater impact on the app's overall ranking in the App Store. Previously, Apple used a ranking algorithm that seemed to give the most weight to apps with the highest download volume and velocity. Fiksu also noted that the App Store rankings were updated only every three hours, instead of the previous rate of every 15 minutes. Fiksu speculated that the slower update policy may have been implemented by Apple in order to make it harder for app developers to artificially boost their App Store rankings.
Although the reasons behind the latest changes are not yet known, Apple occasionally adjusts its ranking system in order to improve the accuracy of its app rankings and the overall App Store user experience. Here's how Apple traded on Friday.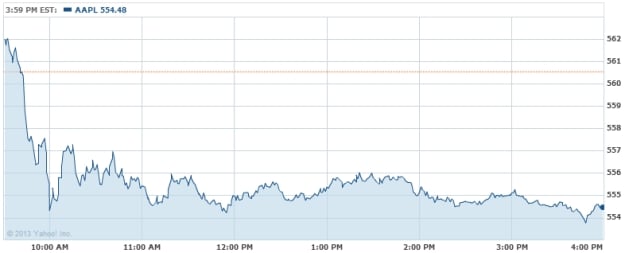 Follow Nathanael on Twitter (@ArnoldEtan_WSCS)
Don't Miss: Analyst: Apple's iPhone 5S Dominates U.S. Smartphone Sales.