Apple's New iOS 7: Does It Go Far Enough?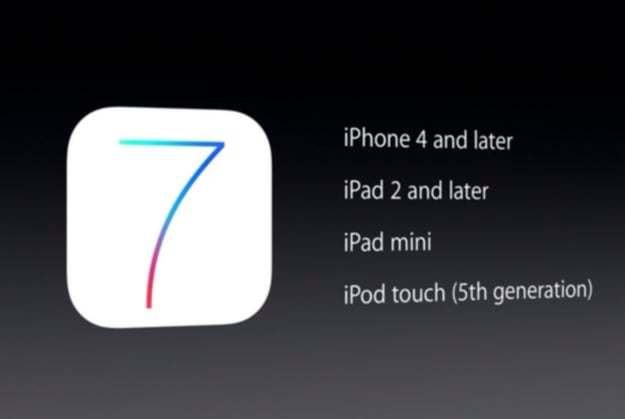 Apple (NASDAQ:AAPL) developers and fans finally got a firsthand look at the Cupertino-based company's long awaited new version of its iOS mobile operating system at the Worldwide Developers Conference this week. The debut of iOS 7 confirmed the rumors that Apple's vaunted design leader, Jonathan Ive, had eliminated many of the skeuomorphic design elements that have long been a part of iOS.
Besides losing the realistic icons, the redesigned iOS also includes some minor visual improvements, such as animated weather events in the weather app and a "parallax" viewpoint when scrolling between applications. Apple's mobile platform also gained some time-saving features, such as automatic app updates and an easy-access menu for turning WiFi, Bluetooth, and other features on and off.
However, the general consensus on Apple's iOS 7 can be summed up by the old adage that states, "the more things change, the more they stay the same." On the other hand, this may not be a bad strategy when it comes to redesigning an operating system.
Gartner analyst Carolina Milanesi notes via the Financial Times that, "They gave me a new experience without giving me a manual to read. There are so many [mobile] vendors that have been concerned about keeping their install base [of existing customers] and either got paralyzed about changing for fear of leaving people behind or changed too much. I think this was a nice balance."
A good example of an operating system redesign project that went too far might be Microsoft's (NASDAQ:MSFT) Windows Vista. Many users felt confused and alienated when Microsoft implemented radical software behavior changes in its Windows operating system. In this sense, iOS 7 may have struck the perfect balance between novelty and familiarity.
Other analysts seemed to indicate that Apple didn't go far enough. Via the Financial Times, Benedict Evans of Enders Analysis said iOS had "maintained the status quo" and "not really changed anything fundamental."
Other Apple users were disappointed that the company didn't focus on improving its Maps app or expanding Siri's voice control capabilities to include apps. One area that was definitely well-received by Apple developers was the opening up of iOS 7's APIs. Developers now have access to 1,500 new features in the latest version of Apple's mobile operating system.
Here's how Apple has been trading so far this week.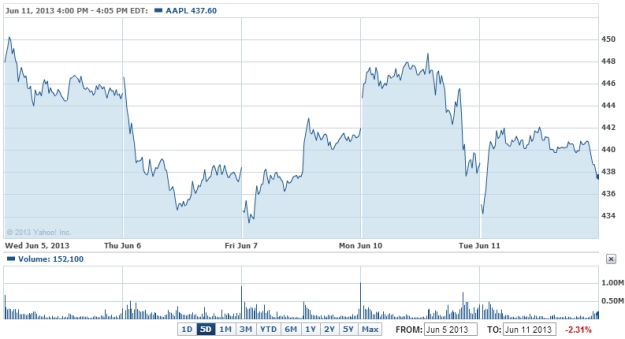 Follow Nathanael on Twitter (@ArnoldEtan_WSCS)
Don't Miss: Nokia's Symbian Will Officially Jump Off Burning Platform.