Apple's New iPad Takes Aim
Apple (NASDAQ:AAPL) may be going on the defensive and attacking the hybrid PC market with its latest memory-rich iPad, according to Citibank analyst Glen Yeung. Apple announced a new iPad with twice the memory of its present largest model on Tuesday. The new tablet, with 128 GB storage, will be available starting February 5 for $799 for a Wi-Fi version and $929 for a cellular model.
"Given what we estimate to be a three-quarter slide in 10-inch iPad unit sales, we can't help but detect a defensive element to Apple's latest iPad SKU, trying to head off the onslaught of Haswell-based [Intel (NASDAQ:INTC)] Ultrabooks & hybrids targeted for release [in the second half of 2013]," the analyst wrote in a research note on Wednesday.
Intel is expected to debut its Haswell-chip based laptop-tablet hybrids later this year, with Microsoft's (NASDAQ:MSFT) Surface Pro being a prominent member of the group. It is expected to have 128GB of space, a keyboard cover, and come with a $999 price tag. The price tag of $799 puts this iPad model above the average selling price of a laptop, which is $703, bringing the two into the same wallet discussion, Yeung added.
Other similar devices include Hewlett-Packard's (NYSE:HPQ) Envy x2, Samsung's (SSNLF.PK) ATIV Smart PC 500T Tablet, Asus' VivoTab, and Acer's Iconia W510.
According to Yeung, the 128GB iPad gives Apple a new way to attack the 200-million strong market of non-Apple laptops. This battle will particularly play out in the enterprise market, the analyst added.
As far as margins go, Yeung believes the addition of the device will prove accretive. "Indeed, 128GB is the optimal configuration, noting that a hypothetical introduction of a 256GB version would be dilutive at current pricing," the analyst said.
Here's how Apple has been trading technically in 2013: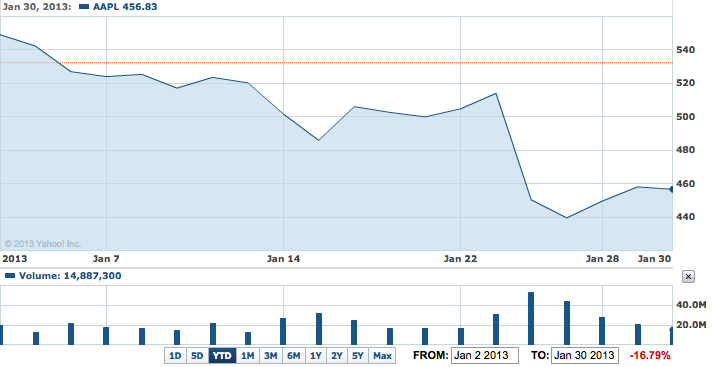 Don't Miss: Analyst: Give Apple Another Chance.