Apple's New Mac Pro Ends Its European Hiatus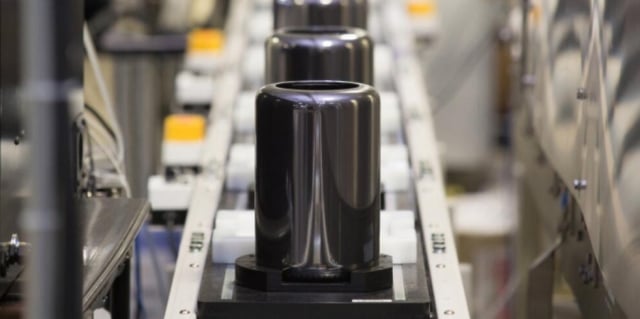 Apple's (NASDAQ:AAPL) Mac Pro has once again become available for purchase in Europe after a nearly year-long sales ban, reports Electronista. Apple's previous-generation Mac Pro model has been unavailable in Europe since March 1, 2013 due to its electrical port and fan guard designs that violated an amended European Union regulation.
However, the redesigned Mac Pro is apparently in compliance with the EU's laws. France's MacGeneration website recently provided a screenshot of one Mac Pro customer's order that showed a delivery date of January 14. However, this doesn't mean that European customers are getting their Mac Pros any faster than U.S.-based customers.
The French customer placed their original order on December 19, 2013. In other words, this customer's order was given special priority, since it was made on the first day of the Mac Pro's availability. As previously noted by Electronista, a few standard configuration units were shipped to U.S. customers by December 30 before shipping estimate times were pushed to February. The Online Apple Store for France is currently showing a shipping availability time in February for both the quad-core and the 6-core versions of the Mac Pro.
Some industry watchers believe that the short supply of Apple's newest high-end desktop computer is due to the relatively small domestic manufacturing base. CEO Tim Cook previously tweeted that the Mac Pro is being manufactured in one facility in Austin, Texas. However, Apple has only cited the popularity of the new Mac Pro as a possible reason for the limited supply. An Apple spokesperson told Forbes that, "Demand for the all new Mac Pro is great and it will take time before supply catches up with demand."
Reviews of the new Mac Pro have been largely positive. The Verge noted that the new design makes the computer "quiet and cool, with little indication that it's even on in the first place," while reviewers at TechCrunch said that the Mac Pro is "almost absurd in terms of its abilities." Apple's 12-core Mac Pro model scored an impressive 32,912 in the most recent Geekbench benchmarks.
Do-it-yourself customers also gave Apple kudos for making the latest Mac Pro upgradeable. According to a teardown and CPU replacement test completed by researchers at Other World Computing, the computer's main Intel (NASDAQ:INTC) Xeon E5 processor is replaceable.
Follow Nathanael on Twitter (@ArnoldEtan_WSCS)
More From Wall St. Cheat Sheet: