Apple's New Mac Pro Will Give the Gift of Upgradability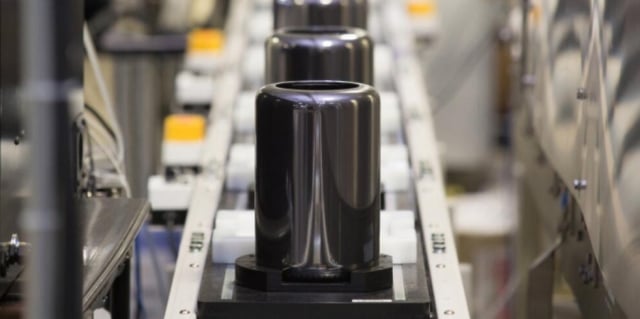 Apple Insider highlighted 2013 Mac Pro teardown photos published by Other Wold Computing on Friday, illuminating a number of the device's unique features that will be appealing to users who may be interested in upgrading their computers in the future. According to breakdown photos, the Intel (NASDAQ:INTC) Xeon processor powering Apple's (NASDAQ:AAPL) new Mac Pro desktop can be removed from the system, reflecting a deviation from the Apple norm, and this allows users to replace the part in the future if they choose to do so.
Apple's decision to make its desktop upgradable reflects a strategy change for the tech giant as the Cupertino, California-based company typically decides to solder in RAM for its devices, drawing significant criticism from users. Though in the past Apple has chosen not to manufacture removeable parts, this time around, it looks as though the tech giant is finally catering to consumers' requests — that, or the company simply just wants a thinner and more portable design.
According to Apple Insider, the Intel Xeon processor has a volume one eighth that of the Mac Pro's predecessor, but experts are still confident the smaller size won't threaten its upgradability. Not only will the CPU be upgradable, but so will the RAM, marking another change in Apple's new devices. In the past, Apple has opted to employ traditional RAM slots, but this time, the company is going the more user-friendly route.
So the breakdown photos offer good news for tech savvy Apple addicts, but of course not all of the Mac Pro's features are that user-friendly, because that would make life way too easy. Apple Insider reports that what the Mac Pro makes up for in CPU upgradability, it lacks in its graphics card compatibility. The new desktop uses custom-designed graphics card to fit in the case, along with a proprietary interface for its flash-based hard drives. In layman's terms, this means you won't be upgrading those respective parts on your own anytime soon. Third-party manufacturers could still develop compatible hardware in the future to offer upgrade opportunities, but it's up in the air whether these expertly made devices could even prove compatible with Apple's OS X operating system.
Nonetheless, the new Mac Pro is still a sight to behold, and a device that Apple boasts as its "most expandable Mac yet." The Pro may be small, but experts say that its power and versatility more than makes up for its modest size.
More From Wall. St Cheat Sheet: