Apple's New Retail Leader, AstraZeneca's Latest Buy, and 3 More Hot Stocks
Apple Inc. (NASDAQ:AAPL): Apple has named Angela Ahrendts, currently the CEO of British luxury company Burberry, to fill the newly created position of senior vice president of retail and online stores; Ahrendts is scheduled to join in the spring. Apple has not had a retail leader since John Browett left the company a year ago, while CEO Tim Cook has filled the gap as needed since.

AstraZeneca Group (NYSE:AZN): AstraZeneca announced that its MedImmune unit would be purchasing the biotech company Spirogen for up to $440 million, adding some strength to its oncology portfolio. Spirogen — currently a privately held company — focuses on antibody-drug conjugate technology, which has the potential to directly target cancer tumors while safeguarding healthy cells, AstraZeneca noted.

Amazon.com Inc. (NASDAQ:AMZN): Amazon said that it has placed employees inside warehouses belonging to Proctor & Gamble (NYSE:PG), where the online retailer will ship P&G's staple consumer products directly from its own warehouses. Amazon's relationship with P&G has existed for about three years under the Vendor Flex program, which allows Amazon to cut the costs of shipping and storing goods as well as better compete on prices.

Rio Tinto PLC (NYSE:RIO): Rio Tinto executives arrived in Mongolia on Monday to resume discussions with the Mongolian government in regards to its Oyu Tolgoi mine, which was put on hold in August after the government rejected its financing proposal for the project. Mongolia says that Rio exceeded the cost limit initially approved by some $2 billion, but it is also contending with stark economic conditions and a shortage of hard currency; as a result, the country is now trying to woo the Rio Tinto back to its investment in the nation.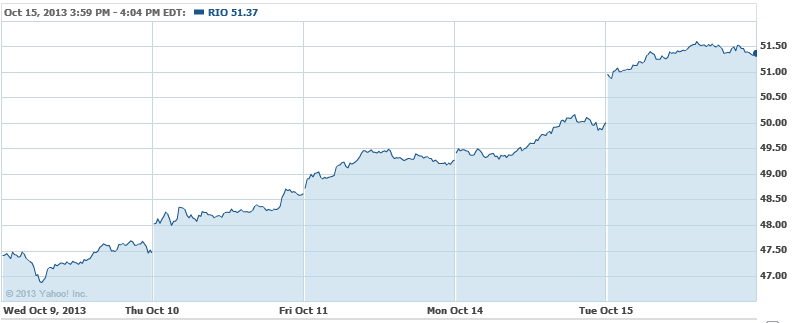 JPMorgan Chase (NYSE:JPM): In the midst of navigating an enormous global settlement, JPMorgan might be looking at an even bigger bill, as a foreign exchange probe in the U.K. has its sights on Richard Usher, currently JPMorgan's London-based head of spot trading for G-10 currencies in the region covering Europe, the Middle East and Africa. He was formerly with the Royal Bank of Scotland when he participated in chat sessions with top traders at other firms; collectively, the group was known as "The Bandits' Club," or "The Cartel."

Don't Miss: Survey: Apple Consumers Prefer iPhone 5S More Than iPhone 5C.