Apple's Newest Patent Target: Galaxy S4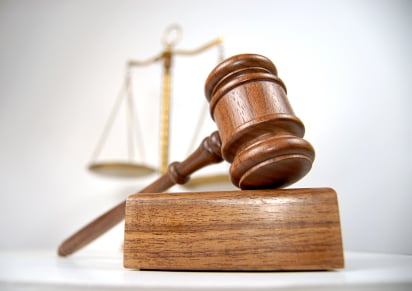 In preparation for the next round of its patent infringement trial against Samsung (SSNLF.PK), Apple (NASDAQ:AAPL) has added another five patents to its lawsuit. Apple has already raised the stakes for Samsung in the next patent trial by announcing that it intended to add Samsung's flagship Galaxy S4 device to the list of products that Apple believes are infringing on its patents. This latest filing makes Apple's request for the inclusion of the Galaxy S4 official, as well as citing the specific patents on which the device is infringing.
Via Foss Patents, Apple's filing states that "Apple determined that the Galaxy S4 product practices many of the same claims already asserted by Apple, and that the Galaxy S4 practices those claims in the same way as the already-accused Samsung devices." In other words, Apple believes Samsung is continuing to infringe on Apple's patents in much the same way that the previous Samsung devices were.
Two of the recently added patents are related to Siri and share the title of "Universal interface for retrieval of information in a computer system." Apple alleges that the Google (NASDAQ:GOOG) Now feature in Android infringes on these two patents. Although Apple's original patent claim targeted the Android Quick Search Box, this feature has been replaced on some Samsung devices by the Google Now app.
The three other patents cover "Graphical user interface using historical lists with field classes"; "System and method for performing an action on a structure in computer-generated data"; and "Asynchronous data synchronization amongst devices." The "System and method for performing an action on a structure in computer-generated data" patent has been dubbed the "data tapping" patent by Florian Mueller at Foss Patents. He notes that Apple has previously won claims against HTC based on this particular patent.
All parties will have an opportunity to discuss Apple's motion in a hearing scheduled for June 25 in front of Judge Paul S. Grewal. Here's how Apple has traded so far this week.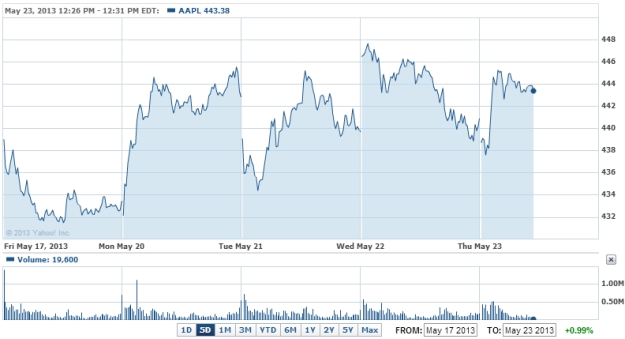 Follow Nathanael on Twitter (@ArnoldEtan_WSCS)
Don't Miss: Is Apple Hiding Its Actual Tax Rate?