Apple's Oct. 22 Launch, Coke Earnings Boosted by Emerging Markets: Market Recap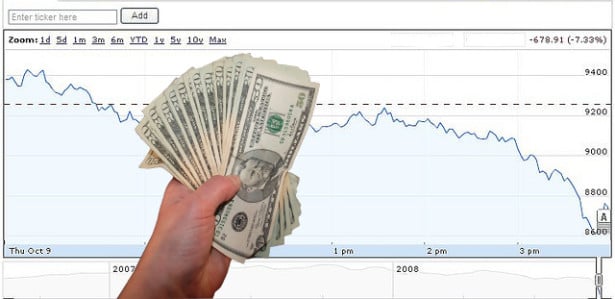 U.S. stocks fell during trading on Tuesday as lawmakers still haven't reached an agreement on the budget just two days before the government will reach its borrowing limit. Stocks have rallied the last four days on optimism that an agreement would be reached soon, but apparently that optimism is beginning to wane. The Congressional Budget Office has warned that the U.S. will default on its debt before the end of the month if lawmakers can't come to an agreement.

Gold: +0.36% to $1,281.20 per ounce Oil: -1.42% to $100.96 per barrel U.S. 10-Year: +1.08 to 2.72%
Washington's Political Drama Is Worrying American Consumers: Had the federal government not been partially shut down thanks to Congressional deadlock over the budget, the Department of Commerce would have released its report on retail sales for the month of September on Friday. Yet even without the official data, there is little doubt that last month was another rough period for American retailers.
Budget Hope Equals Market Rally: Hope for a settlement to the ongoing political standoff in Washington led to a rally today in U.S. financial markets. Meanwhile, on behalf of "the adults in the room," Christine Legarde, Managing Director of the International Monetary Fund, spent the day issuing reminders that the global economy could be pushed into recession if the antics in Washington continue past the October 17 debt ceiling deadline.
Lawrence Summers: U.S. Debt Will Be Paid, and Paid On Time: Summers said he believes Congress will reach a debt ceiling deal before time runs out. The Treasury has stated that it will exhaust extraordinary financing measures come Thursday, after which point it will be left with some residual cash and incoming tax revenues to pay the nation's bills. "We will not default," Summers said.
Here's your cheat sheet to today's top stocks stories:
Citigroup (NYSE:C) sweat some value in trading on Tuesday after reporting third-quarter earnings that fell just short of analyst expectations. Citigroup said revenues excluding special items — such as CVA/DVA, tax benefit, and costs associated with the Morgan Stanley Smith Barney joint venture — fell 5 percent, to $18.22 billion. On a comparable unadjusted basis, Citigroup revenues of $17.9 billion were up 30 percent on the year, a result of large one-time items in the year-ago period.
Coca-Cola (NYSE:KO) reported third-quarter results early Tuesday morning, and expectations were fairly modest. Soda drinkers the world over were expected to have tipped back about the same number of Cokes, Sprites, and Vitaminwaters as they had the previous quarter, giving investors little reason to bet shares up above year-ago levels. On Monday, Coca-Cola shares closed up by just 35 cents, and shares were still trading around half a percent below year-ago levels. After Coca-Cola reported that net income rose 5.9 percent to $2.45 billion, or 54 cents per share, in the three months ended in September, shares inched up.
Johnson & Johnson (NYSE:JNJ) reported earnings after the bell on Tuesday morning, and share closed up 0.14 percent as the health care and pharmaceutical company beat expectations for both revenue and earnings. Johnson & Johnson reported earnings per share of $1.36, up 8.8 percent from $1.25 in the third quarter of last year. Analysts had estimated Johnson & Johnson would post earnings of $1.32 per share.
Chevron (NYSE:CVX) is fighting a 2003 class-action lawsuit filed in an Ecuadorian court accusing Texaco, now owned by Chevron, of polluting the environment surrounding its Lago Agrio oil field from 1964 to 1992, and judgement was only the end of one chapter in the case's convoluted history. In a trial beginning this week, Chevron's lawyers will argue that a group of Ecuadorian villagers and their lawyer Steven Donziger used bribes and intimidation in securing the judgement.
Apple (NASDAQ:AAPL) is hosting another show-and-tell next week. According to Engadget, the tech giant distributed invitations for its Oct. 22 launch event Tuesday, confirming rumors of the special gathering and giving invitees just enough time to clear their schedules for yet another fall Apple unveiling. Like the invitations for Apple's iPhone launch back in September, this month's invites are also distinctly colorful, reading, "We still have a lot to cover."
Tesla Motors' (NASDAQ:TSLA) latest store opening, nestled comfortably between Stanford University and the Google campus, is perhaps one of the more appropriately placed locations as the crowd that resides in that area of Palo Alto make up one of the electric vehicle maker's key demographics: younger, affluent, and living on the cutting edge of technology.
Follow Jacqueline on Twitter @Jacqui_WSCS
Don't Miss: New App Shows Apple's Gold iPhone 5S Is Still in High Demand.